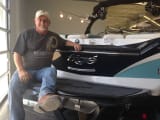 Dave Schwartz retires after 8 years with Tige
After 8 years of service, Dave Schwartz of the Tige maintenance department has retired. Over his years with Tige, Dave has served as an integral employee in all aspects of manufacturing. From mold prep to building aluminum parts for the boats, such as backing plates for grab handles and engine mounts, Dave has served as the man behind the scene making Tige's a pure form of art.
"I'm going to miss a lot about working at Tige, but most of all, I'm going to miss the people I work with," Dave told us. He started laughing and added, "At my retirement party, I realized I'm more well-liked than I thought!"
At Dave's going away party, fellow co-workers surprised him with a very impressive Tige themed cake. Dave is now moving back to Pennsylvania to spend time with family and to escape the Texas heat before summer hits!