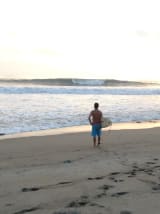 Dominic Lagace Journeys to Mexico
After a very busy season we flew to Guadalajara, Mexico to spend a few days with Marina's family and friends. It's such a big city that is full of so many different things to do. In fact, it's the second largest city in Mexico. Every time I come back to visit I see new things, new buildings and constructions, but at the same time everything is still feels the same—in a good way. Chill people and cool vibes make this town full of young energy, music festivals, and bars, and there's amazing food everywhere—it's just crazy! We love to eat and I especially like Mexican food. The taquitos on the street are just unbelievable as well as the birria, tortas, tequila and mezcal.
We spent only a few days in Guadalajara but we had a lot of fun. We continued our journey close to the coast. The road to the beach gets super close to the sea and we saw several people selling fruits, different sorts of traditional candies, coconuts, salt, and all kinds of exotic and nice things. There were also little places on the side of the road where they sold tacos, tortas, juices and more.
When we arrived at our beautiful beach we couldn't have been happier. We drove there with two other friends from Guadalajara and we did the first thing that anyone should do when they arrive at a Mexican beach—drink a very cold Caguama, which is basically a giant Corona. We put up our stuff and set up the hammocks, because as some people say, "home is where your hammock is."
The waves were great and it was still rainy season so everything was extra green. The bottom of the ocean was full of sand, making it easier to walk in the water. There weren't many people or cars and there was no wifi. We woke up with the sun and all morning the winds blew perfectly off shore, making better waves. Although some days there were very strong the winds, making it a little bit harder to take off.
Sometimes we could see sharks on the line up, but the locals said they are not dangerous. For the size of their fins they didn't look like they were very big, but it was still something on our mind when we were in the water. The water was nice and clean and a lot of birds live there too. There were many different kinds, colors, and sizes, and they made crazy sounds all day and flew with so much elegance during the sunset. They seemed to have so much fun fishing, singing, and flying, and for us be able to see such a beautiful show each day was more than a blessing.
There was a lot of fish action also. A few fishermen in the town go very early in the morning next to the sea with their terrallas (fishing nets). Other people like to go in a bay a little bit north with their surf boards, so they paddle a bit in the water and use a net out there. Other fishermen fish instead with a fishing rod and catch huge fish with it: Pargo, Robalo, fourel, and more….mmm so good! There were so many different kinds of fish, and they were all super tasty.
Some mornings if the surf was not perfect I would go fishing. I woke up really early one morning to walk down to the beach and start fishing, and I caught something that took me about 20 minutes to take out of the water and there he was, the biggest red snapper that I have ever seen, weighing more than 10kg! I had to go wake up a friend to help me carry the big fish to my house. It was about 7:30 am and everyone was super excited for the big catch. We like to joke and we all said that every fish is a party—and it really is. Vaquero's mom, who we call La Doñita, is the most amazing woman and is like family for Marina. She cooked for the whole family (which was around 20 people) the best caldo de pescado in the world. We all ate until we were full and later that day we made the biggest sashimi ever. Normally sashimi dishes are small and you can never get full, but this time we all ate until we couldn't eat any more. We also made what they call Agua Loca with almost 30 coconuts, lemon, slat and mezcal, which was super tasty. At night we ate fish hamburgers, danced, ate more, and drank, and called it "La Fiesta del Pargo," a day that I'm sure none of us will ever forget. And guess what? We still had fish left over for the next days! I love fishing and I've been doing it since since I was a kid back in Quebec.
We lived a very healthy lifestyle by practicing yoga everyday, stretching, doing pilates, surfing, eating good food, having early nights, and enjoying the amazing nature we had all around us. We had a lot of friends with us and had a lot of fun with them, whether it was playing cards, just talking, or going to the closest little town to eat the most amazing Birria.
So life is good :)
Dominic Lagace