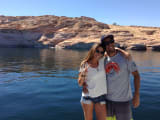 Dominic Lagace's First Winter in 15 Years!
Its been more that 15 years that since I have seen winter and spent the holidays with my family back in Quebec. This time we decide to surprise all of my family to go home for Christmas! At the beginning, the idea sounds crazy. Marina and I laugh just to think about it, who wants to change the sun, the waves, the warm weather? Well us... Plus, Marina has never see the snow before! So we packed our stuff and headed to Montreal.
Our good friend Pepe came to pick us up at the airport. It felt so good to speak in my own language, with my own jokes, I love it! Pepe has been one of my best friends and ex roommate back in Trois-Rivieres. Now he has moved to Montreal and has an adorable little baby. The next day was Christmas Eve so we needed to travel to Trois-Rivieres, which is 2 hours aways. Pepe dropped us off at the bus station, and we made it to my home town. The temperature was crazy 2c, what? However, Marina was happy to have time to adapt for the 'normal' winter temperatures.
My mom picked us in the bus station, and she was so happy to see us in this kind of weather! Plus she was having the X-mas party at her house. She was all ready with the food, the gifts, the tree, and decorations!
We went to eat and of course the first thing we order was the traditional and favorite from use 'Putine' provably the most typical dish in Quebec! French potatoes, salsa and cheese, hard to beat! At the house we prepared the gifts that we brought and the whole vibe was amazing! Snow, wind, food, the tree, just wow! In my house, we celebrate on the 25th, so we put nice clothes and serve the tables, and my nieces were so happy and excited for Papa Noel (Santa)! And then ding-dong! Santa Claus was in the door with a huge bag full of gifts for every one! Everyone was so happy and itmade us remember when we were kids and all the magic of the X-mas times! Santa was extra generous and left us a lot of gifts.... When it was finished, we went to the table to have the dinner. My mom is an awesome cook! We ate and ate all the amazing food she made, cheers'ed with good wine and celebrated the happiness of being all together on such a special day!
The next morning we jumped outside to play in the snow. There wasn't a lot, but for us it was enough. All the memories came back to me from when I was a kid. I used to love this time of the year, playing all day outside, and keep warm inside a comfy house with amazing fun.