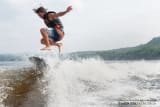 From Texas to Canada with Dominic Lagace
After Mexico, I flew to San Angelo for the Tige's Endless Wave Tour event Wake the Desert. San Angelo lies in the midst of West Texas and is home to about 100,000 people. A virtual oasis, San Angelo is home to three lakes, as well as the beautiful Concho River, which runs through the heart of the city.
Beginning as a Wakeboarding Event, the Tournament has grown to include the sports of Wakeskating and Wakesurfing. Athletes come from all over the US and Canada to compete in the event.Wake the Desert is a fun-filled, family oriented event where wakesurfers of all ages will be able to test new boards, boats, and improve their skills by training and hanging out with the top pro riders in the industry.For more than 10 years, this has been the biggest event in Texas, with wakeboard and wakesurf competitions. I love this event because wakeboarders and fans can see what wakesurfing is all about.The EWT is a super fun tour full of friends and families, where everyone is always super mellow and wants to share their passion for wakesurfing. Chase Hazen and I coached clinics a few days before the event, so people can improve their skills and be prepared for the upcoming contest. This was the biggest crow that I have seen in San Angelo which made the event even more fun.
Wake9 was also at Wake the Desert to put the event online. I love this family and see how much they do for the sport. Not only do they make quality video for the EWT, they also are very good riders inspiring the younger generations to jump behind the boat and have a blast.I finished 1st in my category for Pro Men Skim and 2nd in the longboard division. I would like to say thanks to the Kinsey family for being good hosts for this event year after year. They love wakesurfing and always try to make us feel super comfortable.
After San Angelo, Chase and I flew back to Montreal to spend time in my hometown. It was the first time that Chase came to Montreal. We spent a few days on the lake wakesurfing on my new Tige RZR. We had a blast free riding, spending time with a bunch of friends, playing loud music, and feeling like we were on vacation.
Next, we traveled to the beautiful Calabogie in Ontario where the Canadian Wakesurf Championship 2014 took place. This event is one of my favorites provided by an incredibly organization, attended by many people, and of course good wakesurfing. Amazing riders come to this event, like Keenan Flegel, Caroline Villenueve, Drew and more.My aunt, uncle, and my mom had the opportunity to attend this event as well. It was cool for me because with all my travels I don't see them much. They are always very supportive of me and the sport.
The first day we rode for the calcification place and that night we went to a barbeque in the beautiful chalet of one of the top hockey players, with amazing food and live music. The only way to go to reach this property was by boat. The location, sunset and atmosphere were stunning.
It was cool to see Scott Culp also judged this event; he is one of the most influence people in the wakesurf world that I have met.
The next day we all rode, and I finish 2nd.
I finished 3rd place in the Pro Men Skim.
Dom Lagace