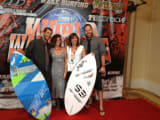 After more than 6 months, I took a flight back to my hometown in Quebec. I was so happy to be there and spend some time catching up with my family and friends.
My hometown, Trois-Rivieres, is a little cosmopolitan town located between Quebec City and Montreal near the convergence of the Saint-Maurice and Saint Lawrence Rivers. Watersports are very popular in Trois-Rivieres because of the easy access to these rivers.
I was lucky to arrive just in time for the biggest celebration in Quebec, Saint-Jean-Baptiste Day on June 24. Various events are organized on Saint Jean Baptiste Day such as rock and jazz concerts, sports tournaments, parades, firework displays, yard sales, dances, fairs, picnics, barbecues, bonfires, and children's entertainment. Some events might even be broadcast live on television, radio, or on the Internet.
My friends and I celebrated by camping on the land of Philipe Lemay's, my best friend and partner of Hi-5 Wakeschool, about thirty minutes from town. He is currently building a house there beside the river, in the middle of the forest, and where our beautiful Rasta RZR Tige Boat can be found.
Camping with my friends is a tradition that we have had for many many years. We will usually spend some days just riding, listening to loud music in the boat, cooking amazing food, drinking beer, and enjoying life. Now that a lot of my friends have kids, we enjoy seeing how much they like to be in the boat and trying to wake surf for the first time.
We started wakesurfing more than 10 years ago. At the time, we had no clue how to set up the boat or what to do behind it. Now, it's a sport that we love so much and it is a big part of our lives.
I also spend time with my good friend, Joe Boutet. They have been always supporting me through the years, especially being a sponsor of my wake school. Every summer, all the staff from his stores will come to ride and practice wake surfing.
We also did a video shoot the other day with some guys from Cubik Media. I can't wait to see the results. Not only do they shoot professional video quality, but the weather conditions were perfect. We filmed from many different angles and even filmed from a little helicopter by remote control. I was able to do a lot of tricks, and we also filmed my video for the Tige MyWake Global Challenge 3 Trick Combo Contest. It was really fun, and I especially like this contest because it is the only online wake competition. The final result for our video shoot is going to be used for the Tige MyWake Global Challenge Video of the Year Contest!
I'm always in a rush when I'm home. I have so many things to do, people to see, and things I want to do. However, I always find time for the important stuff. It feels so good to be able speak in my own language, eat the typical food, and in some ways it seems like nothing changes. Everything, in many ways, is still just as I remember and that's the way I like it.
While at home, we did a wakesurf day with all my sponsors, including S3 Boardshop, Tige Boats in Quebec, Liquid Force, and Rip Curl. We were able to test the new boards from Liquid Force, the new gear of Rip Curl, and we used two Tige boats, the RZR with the Convex VX and the R20. Overall, it was a super fun day with everybody, and it also gave me quality training time. It is hard for me to find training time because I am constantly traveling to different locations, so I always appreciate when I can get a boat to myself and can ride.
I'm loving home. Hi-5
Doum Lagace