Indmar/ Tige 6.2L Closed Cooled Engine
Being just as fuel efficient as it is powerful, the 360R delivers indisputable durability season after season.
EXCEEDING EXPECTATIONS
The Tige R-Series comes standard with the 6.2L Indmar 360R Engine, which provides the perfect balance of torque and a smooth, relaxed ride no matter how hard you push it. It's everything you wouldn't expect from a base model.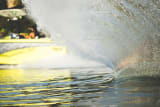 TORQUE-CENTRIC PERFORMANCE
The 360R is packed with power, rated at 365 lb-ft of torque and 308 HP, and comes standard with closed cooling, which boldly distinguishes itself from all other base inboard offerings.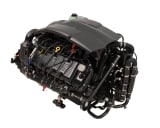 MORE OF EVERYTHING
With more advanced technology, water ready innovations, and premium features that come standard for increased fuel efficiency, rugged durability and more season-after-season reliability, you are sure to experience the perfect ride.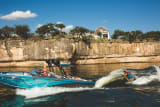 CLOSED COOLED
Helps maintain consistent engine temperatures contributing to better fuel economy and performance. Ultimately eliminates corrosion, leading to longer engine life.