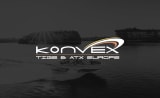 Check out Tige Boats at the largest and most diverse boat and water sports trade fair in Central and Eastern Europe, The Austrian Boat Show - BOOT TULLN. From 10AM-6PM on February 29 - March 3, hang out with RM Yachts to learn more about what Tige Boats has to offer.
For more information, email Josip Filipovic at Josip.Filipovic@mastercraft.at.
Let us know you're coming!