Mid-Atlantic Boat Show | North Carolina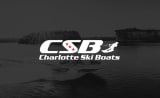 Join Charlotte Ski Boats at the Charlotte Convention Center on February 9-12 to check out Tige Boats at the Mid-Atlantic Boat Show!
Show Times:
Thursday, February 9: 12PM-9PM
Friday, February 10: 12PM-9PM
Saturday, February 11: 10AM-9PM
Sunday, February 12: 11AM-5PM
For more information email Tanner Norris at Tanner.Norris@charlotteskiboats.com.
Let us know you're coming!