Smart Wheel
Intelligent controls on your steering wheel assure that any function you desire is within one touch.
TAKE THE WHEEL.
We didn't invent the wheel. We just perfected it. The Italian leather-wrapped Tige Smart Wheel allows you to do it all, and your hands never even have to leave the wheel.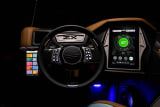 HOW FAR THE WHEEL HAS COME
The Tige Smart Wheel's fully functional controls seamlessly connect with the Tige CLEAR User Experience. Customize your Smart Wheel to store your favorite boat action and CLEAR screen, assuring your favorite functions are just one touch away.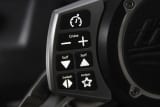 WHEEL CONTROL
Take your day on the water to the next level using the Smart Wheel with a variety of features at your fingertips. Among them: audio, volume, Zero Off cruise control, TAPS 3T, and more.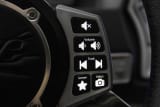 VIDEO CAMERA ACTION
Press the Video button to activate the Tige RearView Camera. With full view of behind the boat while both in forward and reverse, you can stay in the action and keep passengers safe.