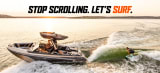 STOP SCROLLING. LET'S SURF.
Head to your local dealer and experience the powerful performance, comfort, and versatility of Tige in the best way possible – by experiencing it first-hand. You can still be on the water this summer. 2023 Tige models are still available and are landing in select dealerships regularly.*
Whether you are interested in the flagship ZX Class, the sporty RZX Class, or the legendary Z Class, Tige will deliver epic waves, good times, and memories that will last a lifetime. Contact your dealer, schedule a demo and ensure that you won't have just any boat at your dock this summer. You'll have a Tige.

*Subject to availability. See your dealer for details.