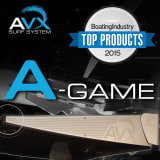 AVX Surf System Named 2015 Top Product by Boating Industry
After introducing the boating industry's first-ever remote controlled, and fully adaptive, wakesurf system in October 2014, Tige Boats is proud to announce that the AVX Surf System and the Surf Link™ Remote has been named one of Boating Industry's 2015 Top Products. Chosen from hundreds of nominations, the Boating Industry's Top Products were selected based on many factors, such as their impact on the industry, innovation and how they advanced their category.
"More than ever, boaters want the ability to enjoy the sport on their terms. The Tige AVX Surf System is a perfect example of that trend, making it easy for wake surfers to create the experience they want on the water," commented Jonathan Sweet, Editor in Chief of Boating Industry.
The all-new Tige AVX Surf System, featuring the Surf Link™ Remote and adaptive hull technology, is the first of its kind, making you the creator of the ultimate surf experience. Any stance, any style, any side… the power is now in the palm of your hands. The AVX Surf System is a collaboration of seven components: the Surf Link™ Remote, AdaptiVX, Tige Touch2, Surf XL Ballast, TAPS2, Convex V/Apex Hulls, and the new Raptor Series Engines by Indmar, which was also named a 2015 Top Product by Boating Industry. With the industry's leading technology working together as one, the AVX Surf System now equips your endless wave with endless possibilities.
To learn more about the AVX Surf System, visit tige.com/avx.