Dare to be different.
Since the legend of Tige was born, we have remained consistent to our core values and our independent culture. Today, we're still the dreamers, the doers, the makers, and we break the rules to give you a vastly superior experience. We live for shattering your expectations of what a boat can be.

If we could laminate passion, we would. Instead, we use fiberglass.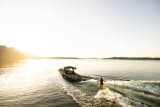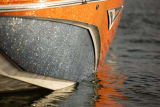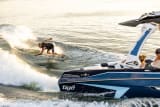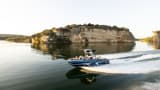 EASY AS 1, 2, TAPS 3T
Whether you're setting up for wakesurfing, wakeboarding, skiing, or heading home, the all-new GO System powered by TAPS 3T makes dialing in your boat literally effortless. Just push 'GO' and your cruise control, ballast, and TAPS settings will automatically be set.
FROM OUR HANDS TO YOURS
Our build process takes twice as long as the industry average, which means twice the attention, precision, accuracy, and beauty. Some would call this over the top; we just call this "who we are."
3 DECADES. 1 VISION.
Charlie Pigeon, founder, owner, and active CEO of Tige had worked as an executive for most of the inboard boat manufacturers. He said, "I know I can do better." He challenged the industry with his core values—not accepting the status quo and a passion for giving customers a dramatically unique experience—with boats that performed like crazy and were much more fun.
#tigelove

Let's get to know each other a little better. Follow us on our social channels at @tigeboats to join in on the fun.
Tige CLEAR Horizon
Experience first-hand as Tigé's all-new interface, CLEAR Horizon, takes a massive leap forward in touch screen technology. Showcasing unmatched visibility, smooth animations, and video playback, our intuitive interface grants you easy access to all the action on the 12.1" high-definition, glare-free touchscreen.
EXPLORE
DECADES OF #TIGELOVE

Today, we still build culture into every one of our boats like we did on day 1. We're the dreamers, the doers, the makers. We still break the rules to give you a vastly superior experience.
LEARN MORE
FEATURES

Riding at the forefront of innovation is where the legend of Tige was born, and we continue to do this with new innovations & technology that help create your perfect day on the water.
Explore
Schedule a Demo
There's only one real way to experience Tige. Let's rock!