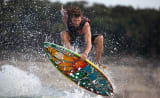 Dominic Lagace: Spreading the Wakesurf Love in Mexico
Ocean Surfing everyday is a blessing but being able to coach wakesurfers for a week was more than cool. I was super excited to wakesurf again.
Tequesquitengo is a lake located outside south Mexico City, close to Cuernavaca. It's one of the four touristic destinations of the Spring of Mexico. It's a vacation place with a lot of wakeboarding and boat action. I went to Tequesquitengo to coach a boy named Franscisco. Him and his family were awesome people and they wakesurf a lot. This was my 3rd time in this lake and it was really cool to see a lot of familiar faces. Wakeboarding on this lake is very popular and is the homelake of the Mexican Wakeboard Mafia, super nice kids, and also a lot of people just doing it for fun, some other do it in a Professional Level.
I coach a few different families for wakeboarding and now they are beginning to wakesurf. They totally fell in love with the sport since the whole family was so close to the rider and the people in the boat thought that the communication is super easy. When we stay in the boat all the other boats wants to see what we were doing. Wakesurfing is a fantastic sport for all members of the family.