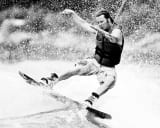 Meet Greg Lawrence, the official Emcee of the Endless Wave Tour
If you don't already know who Greg Lawrence is, you very soon will.
Over the years, Greg has been a professional wakeboarder and kneeboarder, setting two National records and being featured in the very first wakeboarding advertisement, ever. His passion for wakeboarding, barefooting, and gymnastics then led him to working for the SeaWorld Baywatch and Waterski and Stunt Show. These days, Greg calls Austin, Texas home and has fallen head over heels in love with wakesurfing. Join Greg this summer as he emcee's all five stops of the Endless Wave Tour.
Tige Boats: What's been up Greg?
Greg: Well, I've been pretty busy actually... Busy living the dream! I'm running my wakeboarding/wakesurfing school, Lake Lessons out in Austin and I'm just constantly out on the lake teaching others how to ride. I also work for the Ski Dock in Austin, TX.
TB: We hear you're going to be handling the mic this year for the Endless Wave Tour.
GL: I am indeed! I was able to catch a couple of the Endless Wave Tour events last year and they were awesome. We're getting ready to head to the first stop in Wheatland, CA for the West Coast Open and I've heard really great things about this event.
TB: Any predictions for how this seasons going to go?
GL: I think we're going to see a bunch of young rippers going absolutely insane out there. For instance, Raleigh Hager and Parker Payne. They are both so young and let me tell you, they can ride better than most people I know! It's really just amazing to see the youth push and continue to progress the sport. Wakesurfing is 100% the future of watersports and I'm so excited to be a pretty big part of it all.
Is there anyone you can't wait to see ride?
GL: Well, not to sound like a Tige fanboy... But, I can not wait to see Dominic Lagace ride this year! He brings so much passion to the sport and is absolutely mind-blowing on the water. Same with Chase Hazen. He's been bringing new big tricks every year and I think he's going to do amazing this year...
TB: What's the biggest perk of what you do?
GL: Really just being able to be around the sport that I love. I've built my life around the lake and being on the water. Now I get to live it, breathe it and share it with others.
TB: Do you have any advice for surfers this season?
GL: Enjoy every moment on the water! And, don't forget to have fun while competing.