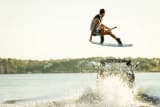 Next Level Powersports joins Tige Boats Worldwide Family of Dealers
Abilene, TX -- Tige Boats, Inc. is pleased to welcome Next Level Powersports to their worldwide family of dealers. Next Level Powersports is a proud family-owned and operated dealership that started almost two years ago.
"Next Level Powersports started out as a thought many years ago after realizing that our area could use a shop that caters to the Twin Lakes Area. After many years of planning and hard work, our dream is now a reality, and we've been able to hook people up with the best brands and services for almost two years. Bringing in Tige and ATX has been a game-changer for us, and we can't wait to continue to fill our lakes with some of the best boats out there," stated Jeff Magness, Owner.
Next Level Powersports is located in Mountain Home, Arkansas. Their dealership is unique because it's located near two lakes and three rivers. Most of their customers enjoy boating at the Twin Lakes, Bull Shoals Lake, and Lake Norfork.
Experience the versatility of Tige and ATX for yourself and check out Next Level Powersport's full line of 2022 Tige Boats, ranging from the 25ZX to the 20RZX, as well as the newly returned Z Class. You can also find ATX Surf Boats joining the fleet with the 20, 22, and 24 Type-S models.
Tige Boats Inc. is represented by a worldwide dealer network. Dealership opportunities continue to be available both in the U.S. and internationally to those dedicated to carrying on the Tige legacy and commitment to customer service to Tige customers.

Next Level Powersports
1511 Highway 62 E
Mountain Home, AR 76253
https://ridenextlevel.com/
870.424.3214
Tige Boats, Inc. is a world-renowned innovator, designer, and manufacturer of high-performance inboard boats. Celebrating their 30th anniversary, Tige has cultivated its iconic brand image through their industry-leading innovation, luxurious diamond-stitched interiors, and multisport versatility. From their world-class manufacturing facility and across the 2022 product line, Tige's consistent design-driven mentality has refined the marketplace while forever intensifying the love for wakesurfing, wakeboarding, and waterskiing. Experience the 2022 Tige and ATX lineups now at TIGE.COM/ ATXBOATS.COM