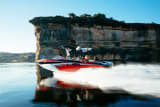 The Tige RZX2 Arrives with Style and Performance
Abilene, TX – Building on the proven performance and design style of the RZX3, Tige Boats is proud to release the all-new RZX2. Coming in at 22 feet, the RZX2 is loaded with the versatility, quality, and style that Tige is renowned for.

"Today's customer wants a boat that meets all of their needs, from design, versatility, and technology perspectives," stated Charlie Pigeon, Founder and CEO of Tige Boats. "The RZX2 delivers on all fronts. You are sure to see it take on the best selling boats in the inboard segment."

Standard with industry leading features, the RZX2 boasts the Tige CLEAR User Experience, Alpha E2 Tower, and TAPS 3. With the leading technology working together as one, performance is unprecedented. no wave has ever been this powerful, no wake has ever balanced your preferences with power, and no slalom set has ever been this accessible with the family in tow.

Other notable standard features include Indmar Raptor Series, transform seating, Surf + Wake XL Ballast, RearView Camera, and the Tige 5 Warranty. More information on the RZX2 can be found at tige.com/boats/RZX2. To see the RZX2 in person, click here: go.tige.com/demo.

Specs:
• Length: 22' (6.7m)
• Boat Beam: 102" (259cm)
• Weight: 5600lbs (2540kg)
• Fuel Capacity: 65gal (246l)
• Seating: 16 • Draft: 29" (74cm)
• Storage: 79.16ft³ (2.24m³)

Celebrating its 25th Anniversary, Tige Boats continues to place innovation and passion at the heart of their boats. Today, Tige keeps these values alive with one common goal in mind—to make your ride better than anything else on the water. From their world-class manufacturing facility and across the 2017 product line, Tige's consistent design-driven mentality has refined the marketplace, while forever intensifying the love of life on the water. Become a part of it at tige.com.