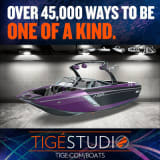 The Tige Studio Paints the Future of Custom Boat Building
ABILENE, TX— Tige Boats has modernized custom boat-building with the launch of the Tige Studio. Bringing together over 45,000 options and cutting-edge technology, the Tige Studio allows you to build the Tige of your dreams from any location.
"Customizing your boat is a very special part of making your Tige your own and we want our customers to have every opportunity to see their dream boat come to life," stated Charlie Pigeon, Owner and CEO of Tige Boats. "The Tige Studio is the latest in technology and allows us to put every Tige option and feature at the fingertips of our customers."
With the Tige Studio, users are able to custom build the 2014 Tige lineup including the new ASR. With a palette of 30 colors and up to 16 colorable panels and accents, your options are nearly endless. From selecting the color of your speakers to the power of your Indmar Engine, the Tige Studio makes it easy to customize your boat from bow to stern.
"The Tige Studio's interface has a wide array of functions allowing users to build their boat, their way. Pulling design and rendering influences from the automotive industry, our primary goal was to make the boats look as beautiful on screen as they do in a showroom," said Daniel Gutierrez, Director Design and Marketing for Tige Boats. "With the Tige Studio, you are the designer."
The Tige Studio interface is optimized for every major smart phone, tablet and computer. After you have completed the design of your one-of-a-kind Tige, share it with your friends and visit your local Tige dealer where they will finalize the design and take your dream from your desktop to your driveway.
Tige.com has also received a number of upgrades for 2014 to optimize the boat research and purchasing process. Visit tige.com for the industries most comprehensive web experience.
Tige Boats launched in 1991 placing innovation and passion at the heart of their boats. Today, Tige keeps these values alive with one common goal in mind—to make your ride better than anything else on the water. From the new ASR to the highly-acclaimed Z3 and throughout the entire 2014 lineup, Tige produces the most technologically advanced product line specializing in massive wakeboarding wakes and ocean-size wakesurf waves. Become a part of it at Tige.com.