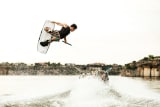 Tige Boats and Knoxville Boat Center Partner with UT VolWake
Abilene, TX -- Tige Boats is pleased to announce the sponsorship of the University of Tennessee VolWake Team out of Knoxville, Tennessee. History runs deep within the wake industry in Knoxville, and Tige Boats, along with Knoxville Boat Center and VolWake, are excited to ride into the next season together.
"VolWake is thrilled to ride behind 2023 Tige 22RZX. As one of the largest collegiate wakeboarding and wakesurfing teams in the country, VolWake requires a reliable, versatile, and high-performance wake boat," said Nathan Brummett, President of VolWake, "From the impeccable quality of product to unmatched client support, Tige Boats truly is the epitome of excellence in the boating industry and will elevate our team to a new level."
Norris Lake Boat Center joined the Tige Boats family in the 2021 and quickly expanded with its second location, Knoxville Boat Center, in 2022. Their growth and expansion in Eastern Tennessee has been a substantial move and continue to demand the attention of the industry. "The minute I stepped into a Tige, I loved everything about it, from the build process to the quality, fit, and finish. We're excited to shake things up with Tige Boats. They're unmatched in the industry," said Mark Profitt, Owner of Knoxville Boat Center and Norris Lake Boat Center.

Partnering with a program like VolWake in Knoxville is a considerable opportunity for Tige as a brand. Watersports are a massive piece of Knoxville's culture, and having a chance to be at the forefront alongside the VolWake Team is exactly where Tige and Knoxville Boat Center need to be. "The program has a rich history of membership that has introduced people into the sport that we love. We strive to be the brand that all of the up-and-coming riders think of when they think of surfing and wakeboarding," stated Andrew McWilliams, Regional Sales Manager at Tige Boats.