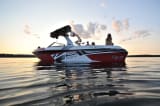 Tige Boats announces new dealer in northern idaho
Abilene, TX -- Tige Boats, Inc. is pleased to announce that Midway Automotive Group Inc has joined the worldwide network of authorized Tige dealerships.
Located in Post Falls Idaho, Midway Automotive Group serves counties in Northern Idaho and Eastern Washington, including Coeur d'Alene and Spokane. They will offer the full range of Tige models and provide full servicing facilities to local Tige owners.
Midway Automotive Group is the latest dealership to join Tige, who has recently introduced their 2016 models, which includes the all-new RZX and R-Series.
"Everyone at the dealership is extremely impressed with the Tige product, and we are excited to add this versatile watersports boat to our showroom", said Tyson Arrotta owner of Midway Marine. "We look forward to meeting and serving existing and future Tige owners in our area and bringing Tige's surfing technology to our marine market."
Midway Automotive Group is a family-owned dealership and has a long successful history in the auto industry in their area. The principals of honesty and reliability are customary in the way they run their business and are applied both to the people who work at the company and their customers. If you are in the Northern Idaho or Eastern Washington area and want to discover what sets Tige apart from the competition, stop in or contact Midway Marine at 208.777.7283. Visit their web site at www.tigeboatsnorthwest.com or contact them directly at tyson@gotomidway.com
Contact Info: Midway Automotive Group, Inc. 1854 E Mullan Avenue Post Falls ID 83854 208.777.7283
About Tige: Celebrating its 25th Anniversary, Tige Boats continues to place innovation and passion at the heart of their boats. Today, Tige keeps these values alive with one common goal in mind—to make your ride better than anything else on the water. From their world-class manufacturing facility and across the 2016 product line, Tige's consistent quality and design-driven mentality has refined the marketplace, while forever intensifying the love of life on the water.