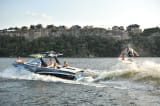 Tige Boats Announces New Washington Dealer
ABILENE, TX – Tige Boats is pleased to announce that Bjornson Marine of Auburn, Washington has joined the family of Tige Dealers. They will debut the 2016 Tige lineup at the Puget Sound Boat Show in Tacoma, WA on March 17-21, 2016.
Clint Bjornson, Owner, has a passion for boating and the lifestyle that it involves, as he has been around the industry his whole life. "I couldn't be more proud to partner with a proven and innovative towboat company like Tige," said Bjornson. "We are very excited about the opportunity to grow the Tige brand in Washington, bringing a new level of sales and service to the area."
Bjornson Marine will service the Western Washington area, including Seattle, Lake Washington, Lake Tapps and Lake Sammamish. The flagship Tige RZX with TAPS 3 Surf System is available at Bjornson Marine for Spring demos.
Tige Boats is represented by a world-wide dealer network. Dealership opportunities continue to be available both in the US and internationally to those dedicated to carrying on the Tige legacy and commitment to customer service to Tige customers.
Bjornson Marine
3402 C St. NE | Auburn, WA 98002
www.bjornsonmarine.com
P: (253) 333-8055
clint@bjornsonmotors.com
Celebrating its 25th Anniversary, Tige Boats continues to place innovation and passion at the heart of their boats. Today, Tige keeps these values alive with one common goal in mind—to make your ride better than anything else on the water. From their world-class manufacturing facility and across the 2016 product line, Tige's consistent design-driven mentality has refined the marketplace, while forever intensifying the love of life on the water. Become a part of it at
###>