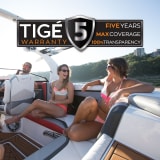 TIGE BOATS ANNOUNCES THE ALL-NEW TIGE 5 WARRANTY: MAXIMUM COVERAGE. MINIMAL LIMITATIONS
Tige Boats is proud to announce the release of the strongest warranty to ever be offered in the boating industry—The Tige 5 Warranty. Quality and dependability are engineered and manufactured into every Tige, and The Tige 5 is designed to keep your time on the water as pleasurable and worry-free as possible. The Tige 5, a five year/555-hour limited warranty, is the most transparent, comprehensive warranty in the inboard segment that provides owners with maximum coverage and minimal limitations.
The Tige 5 Warranty will give owners years of confidence. In addition to the Lifetime Hull Replacement Warranty that is already standard on all Tige boats, The Tige 5 will cover the parts and labor on every component of all Tige models. The closed cooled Raptor/360R engines, Tige Touch2/ActiveTouch screens, electronics, Wet Sounds audio system, and the Boatmate trailer are just a few items that the warranty encompasses. To see the full warranty, click here.
Customer satisfaction has been, and always will be, Tige's #1 priority. Tige is the proud recipient of their 11th National Marine Manufacturers Association CSI Awards for Excellence in Customer Satisfaction. No other inboard manufacturer has won this award more. The Tige 5 Warranty allows Tige to continue to take a very strong position on ensuring the satisfaction of current and future Tige owners.
The Tige 5 Warranty will be retroactive for every 2016 Tige model, and is transferable to the second owner. The Tige 5 is sure to increase the resale value of every Tige, which is already among the highest in the industry