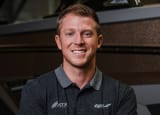 TIGE BOATS, INC. APPOINTS NEW DIRECTOR OF SALES
Abilene, TX --- Tige Boats, Inc. is excited to announce the promotion of Regional Sales Manager Toby Boese to the company's new Director of Sales. Toby began his career at Tige Boats in March 2019 and has quickly proven himself an impressive team leader and progressive in sales management tactics and distribution. Toby will oversee regional sales managers and dealerships worldwide to execute a seamless flow of communications and business development and create strategic plans to achieve sales goals.

"With Toby's leadership, I am confident that Tige Boats and ATX Surf Boats will continue to increase market share, surpass company goals, and align our brand values and culture throughout our family of dealers," stated Charlie Pigeon, Owner, and CEO of Tige Boats. "Toby is a strong asset to our company, and I'm looking forward to seeing where he takes us from here."
Toby's avid love for life on the water and his previous experience in the towboat industry at a retail and OEM level accelerate his knowledge and passion for his career. One of Toby's all-time favorite activities is making memories with his wife and two children out on their boat enjoying a surf or wakeboard session. As he proceeds with his new role, Toby and his family will reside in Abilene, TX.
"As I move into this new opportunity, I'm excited to lead a strong and motivated team in the sales department. We share many of the same goals and are all focused on our dealers' success and continuing to develop a solid, growing dealer network," stated Boese. "The Tige line is the strongest it's ever been, and ATX Surf Boats are continuing to take the market by storm. These are the driving factors that make us work harder and establish success for our dealers carrying the Tige and ATX lines. The Tige team is the best in the industry, and I'm fortunate to be a part of it."
About Tige Boats:
Tige Boats, Inc. is a world-renowned innovator, designer, and manufacturer of high-performance inboard boats. Celebrating their 31st anniversary, Tige has cultivated its iconic brand image through their industry-leading innovation, luxurious diamond-stitched interiors, and multisport versatility. From their world-class manufacturing facility and across the 2022 product line, Tige's consistent design-driven mentality has refined the marketplace while forever intensifying the love for wakesurfing, wakeboarding, and waterskiing. Experience the 2022 Tige and ATX lineups now at TIGE.COM / ATXBOATS.COM