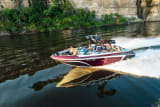 Tige Boats, Inc. Welcomes Aqua Sports Marine as New Tige Dealer
Tige Boats Inc. is pleased to welcome Aqua Sports Marine to their world-wide family of dealers. Aqua Sports Marine will be adding Tige Boats and ATX Surf Boats to their fleet of inboard towboats. The family-owned and operated Aqua Sports Marine opened 32 years ago because of their passion for waterskiing that still holds true to this day.
"We decided to complement our dealership with the Tige brand because they are a leading-edge technology company that has long been known for their performance, quality products and customer service" said Jeff Nichols, President of Aqua Sports Marine. Aqua Sports is also excited to offer the new ATX brand. "The ATX line is very exciting because it offers the same layout, quality and performance, all with a very appealing price point. These two lines will complement our current offering by giving our customers more choices and selection to fit their needs and what they find important to their family."
Aqua Sports Marine caters to several lakes including Lake Fenton, Silver Lake, Lake Ponemah, Genesee and Oakland Counties. Experience the power of Tige and ATX Surf Boats for yourself and check out Aqua Sport Marine's full line of Tige Boats, including the flagship model 23ZX as well as the ATX 22 Type-S.
Tige Boats Inc. is represented by a worldwide dealer network. Dealership opportunities continue to be available both in the U.S. and internationally to those dedicated to carrying on the Tige legacy and commitment to customer service to Tige customers.

Aqua Sports Marine
3235 W. Thompson Road
Fenton, MI 48430
aquasportsmarine.com
810.629.2800
Going on 29 years, Tige Boats Inc. continues to place innovation and passion at the heart of their boats. Today, Tige keeps these values alive with one common goal in mind—to make your ride better than anything else on the water. From their world-class manufacturing facility and across the 2020 product line, Tige's consistent design-driven mentality has refined the marketplace, while forever intensifying the love of life on the water. Become a part of it at tige.com.