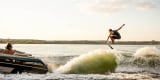 Tige Boats, Inc. Welcomes NC Wake Boats to Their Family of Dealers
Abilene, TX -- Tige Boats, Inc. is pleased to announce NC Wake Boats has joined their worldwide family of dealers. Conveniently located in Broadway, North Carolina, NC Wake Boats has added Tige Boats and ATX Surf Boats to their fleet. In addition, NC Wake Boats offers a range of services to current and future Tigé and ATX owners.
"Our customers are our top priority, and we strive to provide them with excellent service and customer relations. Whether looking at a new boat for their family or needing service, we are always a call or text away," says David Turner, founder of NC Wake Boats. "We are present on and service our local lakes, including Harris Lake, Jordan Lake, and Falls Lake, as well as multiple others, and are excited to bring the industry-leading Tige and ATX lines to the RDU Triangle!"
In addition to the lakes mentioned before, NC Wake Boats will serve Kerr Lake, Lake Gaston, Hyco Lake, High Rock Lake, Badin Lake, and Lake Tillery.
Tige Boats Inc. is represented by a worldwide dealer network. Dealership opportunities continue to be available both in the U.S. and internationally to those dedicated to carrying on the Tige legacy and commitment to customer service to Tige customers. Stop by NC Wake Boats to explore the lineup of Tige and ATX boats, from the Tige 25ZX through the ATX 20 Type-S.
NC Wake Boats
143 Holly Springs Church Road
Broadway, NC 27505
919-928-1104
https://www.ncwakeboats.com/
Tige Boats, Inc. is a world-renowned innovator, designer, and manufacturer of high-performance inboard boats. Celebrating their 32nd anniversary, Tige has cultivated its iconic brand image through their industry-leading innovation, luxurious diamond-stitched interiors, and multisport versatility. From their world-class manufacturing facility and across the 2023 product line, Tige's consistent design-driven mentality has refined the marketplace while forever intensifying the love for wakesurfing, wakeboarding, and waterskiing. Experience the 2023 Tige and ATX lineups now at TIGE.COM / ATXBOATS.COM