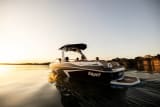 Tige Boats, Inc. Welcomes New Dealer in North Dakota
Abilene, TX -- Tige Boats, Inc. is pleased to announce Pro Marine has joined their worldwide family of dealers. The Pro Marine leadership team has a combined 85 years of experience in the marine and customer service industry and is excited to carry the Tige and ATX lineups in their dealership.
Pro Marine's customer service is what sets them apart from their competition. You can rely on them to be there for you before, during, and most importantly, after the sale. "Our team is so excited to bring this customer-focused way of doing business to the area," says Jordan Bosch, Owner of Pro Marine. Located in Bismarck, North Dakota, Pro Marine caters to Lake Sakakawea, Devils Lake, Lake Metigoshe, and the Missouri River.
"I have managed some of the top brands in the marine industry, and once I found Tige, I knew it was time to venture out and start Pro Marine. Tige is the most premium boat I've ever seen. The fit and finish on the boat are second to none. The team at Tige Boats is even better! Everyone at Tige cares about each and every boat that is built. At the factory, I could see and feel that everyone was passionate about the brand and what Tige Boats stands for, perfection," says Bosch. "We at Pro Marine are so excited to have Tige/ATX as part of our team. As I tell everyone, pictures don't do these boats justice, stop in and see this functional art of perfection for yourself."
Tige Boats Inc. is represented by a worldwide dealer network. Dealership opportunities continue to be available both in the U.S. and internationally to those dedicated to carrying on the Tige legacy and commitment to customer service to Tige customers. Stop by Pro Marine to explore the lineup of Tige and ATX boats, from the Tige 25ZX through the ATX 20 Type-S.

Pro Marine
960 Industrial Dr.
Bismarck, ND 58501
701-751-9911
https://www.promarinend.com/
Tige Boats, Inc. is a world-renowned innovator, designer, and manufacturer of high-performance inboard boats. Celebrating their 31st anniversary, Tige has cultivated its iconic brand image through their industry-leading innovation, luxurious diamond-stitched interiors, and multisport versatility. From their world-class manufacturing facility and across the 2023 product line, Tige's consistent design-driven mentality has refined the marketplace while forever intensifying the love for wakesurfing, wakeboarding, and waterskiing. Experience the 2023 Tige and ATX lineups now at TIGE.COM / ATXBOATS.COM