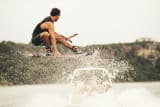 TIGE BOATS, INC WELCOMES WEST TEXAS WATERSPORTS AS A NEW DEALER
Abilene, TX - Tige Boats, Inc is pleased to welcome West Texas Watersports to their worldwide family of dealers. West Texas Watersports was founded by Tony Fussell, a recognizable and trustworthy voice in the boating industry. Tony has grown up in the boating industry since he was 12 years old and went on to ski for Sea World of Texas in San Antonio for 3 years after graduating high school. With a passion for water sports, Tony later began a 17-year career with Tige Boats before opening up West Texas Watersports to service West Texas with sales and service for Tige Boats and ATX Surf Boats.
West Texas Watersports is excited to bring on the Tige and ATX line to its dealership. "The Tige line of boats is a staple in the West Texas area," stated Tony Fussell owner of West Texas Watersports. "With ATX Surf Boats also being a more affordable option for some families, this opens up a great deal of opportunity for West Texas Watersports. I have been impressed with the overall quality and performance of the ATX line," stated Tony.
West Texas Watersports caters to the surrounding lakes such as Lake Brownwood, Hubbard Creek, Lake Leon, and Lake Allen Henry. "Tige already enjoys a high market share in the area but I look forward to dominating the competition" stated Tony Fussell.
What sets Tige and ATX apart from other towboats according to Tony is the "people at Tige Boats, Inc from the factory to top of management are passionate and live the life that they are building and selling". Experience the power of Tige and ATX for yourself and check out West Texas Watersports' full line of Tige and ATX Boats.
Tige Boats, Inc is represented by a worldwide dealer network. Dealership opportunities continue to be available both in the U.S. and internationally to those dedicated to carrying on the Tige legacy and commitment to customer service to Tige customers.
Contact Info:
West Texas Watersports
5050 E Hwy 80
Abilene, TX 79601
www.wtwatersports.com
(325) 829-8676
Going on 29 years, Tige Boats, Inc continues to place innovation and passion at the heart of their boats. Today, Tige keeps these values alive with one common goal in mind—to make your ride better than anything else on the water. From their world-class manufacturing facility and across the 2020 product line, Tige's consistent design-driven mentality has refined the marketplace, while forever intensifying the love of life on the water. Become a part of it at tige.com.