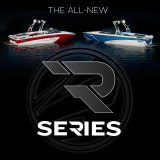 TIGE BOATS LAUNCHES ALL-NEW R-SERIES
The all-new R-Series begins a new chapter in Tige Boats success story and sets new standards in the premium value segment. The R-Series includes the all-new R21 and the completely redesigned R20.
The R-Series models were designed for real fun, real life, and a real good time. Boasting Tige's signature bold styling with new metal flake gel coat options and an array of standard features including Zero Off Cruise Control and ActiveTouch Electronic Command Center, you can count on the R-Series models to deliver on their value time after time.
TIGE R21
Built with Tige's quality standards and the famed Z-Series hull, the R21 is the 21-footer that you've been waiting for. The R21 has the room, the fun, the versatile performance and all the possibilities. Plus, it's accessible for almost any budget.
The R21 is a looker inside and out. With a 102-inch beam, fresh style lines, metal flake gel coat options and a host of standard amenities including the ActiveTouch Electronic Command Center and Zero Off Cruise Control, the R21 literally has it all.
The standard price of a R21 is $62,615 USD, which includes Diamond Tower, TAPS 3 Surf System, Surf+Wake XL Ballast, R-Premium Sound System, Boat Cover, & Swivel Board Racks. For more information on the R21, visit /boats/r21
TIGE R20
Take the wheel of the all-new Tige R20 and you'll realize that it is far more than basic.
The R20 offers Tige's tradition of innovation, versatility and quality with a pocket friendly price tag. Designed with both towing and performance in mind, the 20-footer is easy to tow, easy to own and an absolute blast to ride. Everything you want is engineered right in for a turnkey experience.
The standard price of a nicely equipped R20 is $60,896 USD, which includes Diamond Tower, TAPS 3 Surf System, Surf+Wake XL Ballast, R-Premium Sound System, Boat Cover, & Swivel Board Racks. For more information on the R20, visit /boats/r20