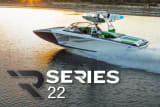 TIGE BOATS LAUNCHES ALL-NEW R22
ABILENE,TX -- Tige Boats is raising the bar in the premium value segment with the introduction of the all-new R22, the newest addition to the R-Series.
Built on the patented Convex V Hull and with Tige's legendary craftsmanship and quality standards, the 22-foot R22 is a Tige through and through. This aggressively priced model will perform on a dime whether you're wakesurfing, wakeboarding, waterskiing, or just cruising the lake.
The R22 comes equipped with everything you want to get out on the water. With a 102-inch beam, new metal flake gel coat options, and a host of standard amenities including the ActiveTouch Electronic Command Center and Zero Off Cruise Control, the R22 was built to deliver on its value time after time. The R22 also features the easily collapsible Diamond Tower and the 360R Engine by Indmar.
The standard price for a nicely equipped Tige R22 is $68,910 USD, which includes the Diamond Tower with Swivel Board Racks, R-Premium Sound System, TAPS 3 Surf System, Surf+Wake XL Ballast, and a Boat Cover.