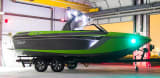 Tige Boats Launches the Apex of Boat Design: The Tige ASR
ABILENE, TX—Throughout history, Tige Boats has continually altered the world's understanding of a great boat. To begin a new chapter, Tige unveiled their latest masterpiece: the Tige ASR. Tige's world-class engineering team fueled their imaginations to build a boat that is bound for greatness. The 23-foot ASR headlines the all-new Apex Series.
"Tige has always been the manufacturer that has challenged the mass produced brands. As the market share shifts, we are proud that the industry and markets recognize that indeed we are the leading innovators in engineered quality, progressive European inspired design and wake/wave performance. The technology, engineering and styling of our boats is uniquely superior," stated Charlie Pigeon, Founder and CEO of Tige Boats.
Boasting the Apex Hull, the next evolution of the legendary Convex V, the Tige ASR has the most technologically advanced hull design and was developed and refined by the world's top wakeboarding and wakesurfing teams. The Apex Hull carries the capacity for 3,000 lb's of factory in-floor ballast and hurls the wake that riders around the world have been begging for. The ASR equipped with the Convex VX will further evolve the wakesurf revolution with the ocean-size Tige wave that has set the industry standard.
The ASR blends the classic head-turning Tige styling with modern luxury. Designed to be more than just looks, the ASR is brilliant from bow to stern with every surface serving a purpose. "We pulled inspiration from numerous influences to create a boat that features unique styling cues never before seen in boat design," stated Rick Correll, President of Tige Boats. "Our team loaded the ASR with advanced features and accounted for every inch to maximize usable space." Equipped on the ASR is the entirely new handcrafted interior, the unprecedented transom Surf Locker and Tige Touch 2.0, the latest in on-board technology featuring libraries of wake instructionals and real-time boating tips. For a full list of features in the Tige ASR, visit tige.com/apex.
"The ASR is the result of our teams' determination to reach a goal," stated Rick Correll. "From designers, engineers and manufacturing, our talented team of craftsmen came together to create a boat that is worthy of the Tige name. Together with our dealers, riders and retail customers, we tested, explored and considered all options with a great emphasis on customer requests. The ASR is the answer!"
Length: 23 feet Beam: 102 inches Weight: 5,400 lbs Fuel: 65 gallons Capacity: 16 people
Tige Boats is an independent, design-driven company, celebrating over 20-years of uncompromising boat design. Tige produces the most innovative product line, ranging from 20 to 24 feet in length and specializing in premier wakeboarding and wakesurfing boats. Check out what everyone's been talking about at Tige.com.