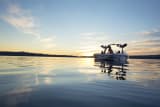 TIGE BOATS RAISES SIGNIFICANT CHARITABLE DONATIONS DURING FOURTH QUARTER
Abilene, TX – Tige Boats is honored to share the #tigelove and give back to charities around the world heading into the holiday season. The charitable funds that Tige has raised are directly supporting WakeWorld's Toys for Tots, Hurricane Harvey victims, Higher Ground Sun Valley, Fly Fishing for Veterans, and various other non-profits. "It is a privilege working with these outstanding organizations and we're happy to extend a helping hand where it's needed," stated Charlie Pigeon, Founder and CEO of Tige Boats.

Tige Boats offered a 2018 custom-build R21 in WakeWorld's U.S. Marine Corps Toys for Tots Auction. WakeWorld ran online auctions of donated items from companies and individuals in order to buy toys for underprivileged kids that otherwise may not be getting any gifts during the holiday season. Tige Boats has offered a boat for many years in the Toys for Tots auction, but this was a record fundraising year. The R21 found its new home well over the reserve price, all of which supports a great Christmas for many children.

"We are very thankful for Tige's donation of the 2018 R21," said David Williams of WakeWorld. "It was awesome to see a bidding war that benefits children. This donation broke all of our records from our past 13 years of hosting the Toys for Tots Auction."

The contribution to High Ground Sun Valley will give disabled individuals the opportunity to experience recreation and outdoor sports at their highest level of independence. Fly Fishing for Veterans (Project Healing Waters) is a unique, community-based, non-profit, volunteer-driven organization dedicated to the physical and psychological rehabilitation of active duty military personnel and veterans with disabilities through the therapeutic benefits of the sport of fly-fishing.

After the disaster and destruction Hurricane Harvey unleashed on Texas, Tige Boats also stepped in to help out their home state by selling a t-shirt that represented Texas being stronger than the storm, or "Texas Strong." 100% of the purchased t-shirt was donated to hurricane relief resulting in a significant amount that Tige Boats was proud to donate, and help their fellow Texans. Tige Owners, dealers and helpful citizens throughout the world came together to purchase a t-shirt in support of the devastation that unfolded. The Texas Strong t-shirts are still available for sale and you can continue donating by clicking here to visit the Tige gear store.

Tige Boats is offering yet another charitable contribution with a custom-built 2018 Tige R21 in the West Texas Rehabilitation Center auction that begins this month. The nationally respected non-profit physical rehabilitation center will use the money to provide quality care for patients with disabilities regardless of their financial circumstance. The auction will be announced soon on the Tige Boats Facebook page.

So far, the total proceeds are well over $60,000.