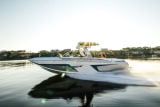 Tige Boats Releases All-New 24RZX
ABILENE, TX — Tige Boats, Inc. announced the release of the all-new 2022 24RZX. The 24.5-footer establishes a new era of the RZX Class, boasting a larger cockpit, deeper freeboard, next-gen interior, and razor edge design. Staying true to Tige's iconic styling and performance, the new 24RZX is a culmination of Tige's latest advancements with a progressive new look. If you crave power, state-of-the-art technology and want to stand out — the 24RZX is the boat for you.

From performance and handling to design and storage, every detail delivers and was thoughtfully engineered to make your day on the water epic. Notable new features include massive storage throughout, plush diamond stitch pattern and upholstery updates, dramatic exterior body lines, enhanced LED packages, full bow and transom walkthroughs, and triple laser non-skid. There's never been more configurable storage within the Tige line. Storage enhancements include a larger surf locker that can fit up to four boards, bow storage, optimized space under the observer and cockpit seats, and the all-new Double Up Transom Storage.

"It's in Tige's DNA to deliver on common desires by boating enthusiasts and owners — the new 24RZX is no exception. Every detail was meticulously appointed to not only look the best but to outperform every other boat on the water," said Charlie Pigeon, Owner, and CEO. "The heritage of Tige's RZX Class was born to be bold and sporty, and this boat takes it to another level. The Tige team truly outdid themselves on this model, and we're going to continue increasing market share because of it."

The 24RZX makes a big statement in surf and wake performance. The GO System allows you to keep your wave long and mellow while you're learning your way around the wave, or take it all the way steep to experience an endless ocean-worthy wave. When you're ready to GO Wake, your 24RZX will adjust accordingly, and you will be riding clean, tall wakeboard wakes within seconds. The 24RZX will adapt to your level and style of riding every time, without the hassle of dialing in perfect wakes.

2022 24RZX's will be landing at dealerships soon, but there's truly only one way to experience the power and versatility of a Tige — on the water. Find more information about the 24RZX at tige.com/boats/24rzx. To view the full Tige Lineup, click here.

24RZX Specs
Length: 24'5"
Beam: 102"
Weight: 6,300 lb
Ballast: 4,000 lb
Fuel Capacity: 79 gal
Seating: 18
Draft: 29"
Storage: 162.45 cu. ft.