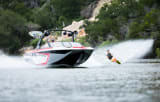 Tige Boats Welcomes Whitefish Marine As New Tige Dealer
Tige Boats is pleased to welcome Whitefish Marine to their world-wide family of dealers. Boasting 3 years of experience, Whitefish Marine is a family owned and operated dealership. Being a third generation boating family and growing up on the water, Whitefish is excited to be servicing current and future Tige owners at their location.

"We are excited to bring on Tige because we know there are a lot of current and potential Tige buyers that desire better customer service. We are excited to have them as part of the Whitefish Marine family," stated Garth Wells with Whitefish Marine." We feel that Tige has the right performance, value, and style to offer towboat customers a boat they desire and with the proven Indmar Raptor engine customers can expect years of reliable service."

Whitefish Marine has been in business three years and experienced amazing growth. Their motto is "let our family show your family how easy and fun boating can be". With a new 9,500 sq ft show room and service center, two master technicians with 20 + years experience each and all technicians being fully Indmar factory certified, Whitefish Marine strives to take excellent care of their customers and do what is right.

Experience the power of Tige for yourself and check out Whitefish Marine's full line of Tige Boats, including the flagship models RZX3 and ZX5, as well as the value-oriented R-Series models. Whitefish Marine will debut the Tige lineup at the Kalispell Boat Show on February 8-1, 2019.

Tige Boats is represented by a worldwide dealer network. Dealership opportunities continue to be available both in the U.S. and internationally to those dedicated to carrying on the Tige legacy and commitment to customer service to Tige customers.

Contact Info:
Whitefish Marine
5960 U.S. Highway 93 South,
Whitefish, MT 59937
www.whitefishmarine.com
406-862-85947

Going on 28 years, Tige Boats continues to place innovation and passion at the heart of their boats. Today, Tige keeps these values alive with one common goal in mind—to make your ride better than anything else on the water. From their world-class manufacturing facility and across the 2019 product line, Tige's consistent design-driven mentality has refined the marketplace, while forever intensifying the love of life on the water. Become a part of it at tige.com.