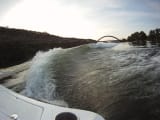 Wakesurf Setup by Wake Surf Austin
Boat buyers generally ask two question during the research process: "Why Tige?" and "How do I get a massive wakesurf wave behind a Tige?". Wakesurf Austin rep, Stephen Thomas, answered these questions on why the Tige RZ2 was the perfect match for their group.
1) We live in Texas and Tige's are built in Abilene, TX. Gotta support the locals.
2) We needed a boat that was 22′ or less and we have 7 kids between us. The RZ2 platform is rated for 15 people.
3) The best wake surf on any 22′ boat available today. We don't wakeboard so surfing was all that counted.
4) Cost. All inboards are great boats but generally have a price tag that is 20% higher than a comparable Tige.
5) The look. We love the look of our boat and that is a must if you are going to ride it on a regular basis. Find a boat you love and you will use it.
Right now we have two core setups…
1) The Original Wake
- Weight: 1,450lbs Port Side (2 Sacs in and underneath port side rear), 250lbs (1 sac that sits on top of port side seat)
- TAPS: 2
- Speed: 11.2
- Characteristics: Overall solid wake with tons of push and length. Good for tricks and shreddin'.
2) The Cush Wave
- Weight: Same as above.
- TAPS: 2
- Speed: 10.4 – 10.6
- Characteristics: Steep wave with an enourmous amount of push. Softer. Almost like a pillowtop mattress. You can jump but you essentially sink into the wave. Great for just riding and teaching people to ride.
You can find Wakesurf Austin out on any Central Texas lake pretty much any time of the year behind their Tige RZ2. Photo courtesy of surfaustex.com