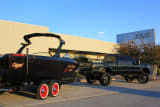 Wet Sounds Custom Rat Rod Z3
Wet Sounds is a high performance marine audio manufacturer out of Houston, Texas. Every few years they build a new Tige wakeboard demo boat to be used to showcase the company's products and every time they put one together they tend to outdo themselves in a big way!
This time around Wet Sounds worked with Tige Boats on their new Z3 23-foot boat. The design process started months in advance to bring a true one-off custom machine to the water. The theme for this build was the Wet Sounds Rat Rod Tige Z3. Rat Rods are a type of hot rod that are built using unique materials and style and are usually left unpainted and have the natural rust and patina show. Wet Sounds is currently building a 1930 Ford Model A rat rod as well. So with the rat rod build already underway, a boat done up in a theme to match was a perfect fit.
The Boat
2013 Tige Z3
Pro Ballast system with Convex VX surf attachment
All black gel coat
Custom flat black trailer built by Boat Mate Trailers. The Trailer has John Deere Blitz Black paint with 18-inch old school steel wheels in hot rod red and custom 18-inch Nitto tires with one-off white walls.
Alpha Z tower in flat black
All flat black PTMEdge clamping board racks and rearview mirror
Every metal part in the boat was painted or powder coated flat black or flat red. From the through hull vents to the cleats, steering wheel and shifter, dash parts and windshield frame. All of these parts were done ahead of time to be sent to Tige to be installed into the boat on the production line.
Custom interior done by Tige in all matte vinyl using white with black and red accents with a denim texture and black stitching.
Wet Sounds and Tige stitch on captains chair
Custom Wet Sounds Seadek teak-look throughout
5% Limo tint on windshield
Custom Wrap by Sirlin Enterprises. Matte wrap with custom patina and design from scratch done by Josh Sirlin.
Stereo
Wet Sounds did the stereo installation in house with the help from their friend Corey who works for Mobile Innovations in Katy, Texas. The entire system is all Wet Sounds minus the source units. There is Apple TV and Apple airport express and Arc Audio PS8 DSP processor. The boat has its own wifi network to play audio, stream video to the Tige Touch Screen and control the RGB LED lights off wifi.
Apple iPad built into seat base running off Apple Airport Express and Apple TV. Hard wired Apple connection for iPhone 4 or iPhone 5 by driver.
Wet Sounds WS-420 SQ built into plexi panel under helm. Source can be hardwired apple iPhone or iPod or switched to the wifi network and play wifi off iPad or any other device. WS-420 SQ is running into the DSP processor. Entire boat is tuned on a laptop.
3 pairs of Wet Sounds SW-650 black with LED tweeters and LED speaker rings
2 pairs of Wet Sounds SW-808 black with LED tweeters and LED speaker rings built into fiberglass pods in seat bases with factory vinyl and billet Wet Sounds shield badges
4 Wet Sounds XS-XXX V2 subs
1 pair of Wet Sounds REV 410 tower speakers in flat black with flat red overlays
1 set of Wet Sounds REV 410 Tige Alpha Z tower adapters in flat black (a new special order item we have)
1 Wet Sounds Sinister SD6 amplifier running interior speakers
2 Wet Sounds Sinister SD2 amplifiers, one on each REV 410
4 Wet Sounds Sinister SD2 amplifiers, one per sub
All wired with Wet Wire; 0 ga, 4 ga, big block combo distribution blocks, RCA cables, 12 ga speaker wire and RGB wire
6 XS Power XP3000 batteries for the stereo
2 Intellipower 80 amp chargers
4 zones of RGB LED; tower, speakers, accent and amps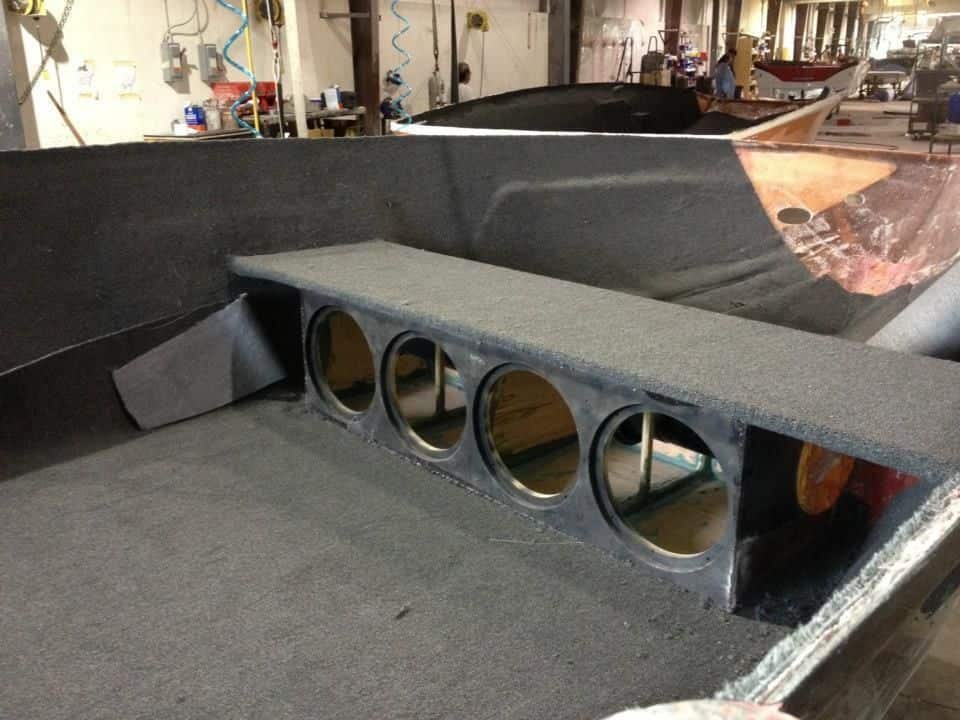 Subs
The stereo planning started long before the boat was even built. Tige was kind enough to let Wet Sounds go to the factory when the boat was just a hull and top deck. They cut out the center walkway of the top deck and fiberglassed the subwoofer enclosure into the actual hull of the boat.
The box is for four Wet Sounds XS-XXX V2 subs. It's a single box with two chambers and two woofers per chamber with six-inch aero ports side firing. The box is ¾-inch marine grade birch that was resin coated. The front is double layered, so it's 1.5 inches thick. Another piece was added on top to tie it into the boat and another piece on the back to tie it into the boat, so the top and back are also 1.5 inches. The panels were glassed into the side of the hull connecting the entire enclosure with fiberglass mat, so the sub enclosure is now part of the boat.
As the ports fire out the front only, glass was laid at a curve to create a wave guide for the port. Once the boat was put together, Tige made a center cushion that is the same size as the cooler flip up lid in the walkway. It looks factory and has the same height as it would if there was still a cooler there. A press fit trim panel wrapped in factory vinyl covers the woofers with mesh for the vents. A Wet Sounds AS-10 sub grille is in the center where we cut a hole for more bass to vent when the seat is closed.
Amps
Amps are mounted into the seat bases. Wet Sounds cut CNC templates so the cuts are exact and cut plexi on the CNC machine with a rabbeted edge to press fit from the rear that is glued in; not a visible screw anywhere. The amps are inside amp boxes that hinge down to adjust with built in push-pull fans wrapped in factory carpet. Very little storage was sacrificed. The amp boxes are lit with RGB LED to give an infinity mirror effect. Each amp badge has been changed to RGB.
Tower
Since the last demo boat had four Wet Sounds REV 10's, a pair of REV 410's were decided on for this boat. However, the Tige Alpha Z tower is designed for four Rev 8's or four Rev 10's. A new Wet Sounds designed billet CNC bracket that attaches to the top location and pushes the REV 410 over for more head room was in order. The final outcome is a perfect match for the REV 410 and this tower. The mounts start out as a solid block of billet and are CNC'd down with the factory tower mount recessed inside to mate to with two mounting wings out the sides for the REV 410 to through bolt to from the inside.
Speakers
They used fiberglass pods in the side seat bolsters with two pairs of Wet Sounds SW-808's kicked at an angle to bring the sound stage up. They used the factory rear and factory mid (port only) locations for the SW-650's. They added a speaker behind the driver since the factory speaker is normally under the dash. Factory bow locations were used up front.
Wiring and Power
The center rear seat access door was used as a location for the fuse distribution. The entire floor pivots up for access to the boat, so wire was run up and back so you can still pull the floor up as normal. Three XS Power 3000's are under each of the outer rear seats to not take up any storage for six XS Power batteries just for the stereo. The Intellipower chargers are installed behind the factory starboard rear access panels. Holes were added in the panel to view the voltage readouts on the chargers.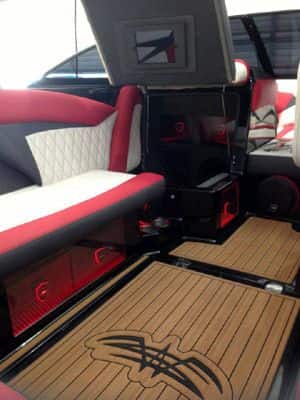 LED's
There are four zones of LED's. Control for the LED's is off the iRule iPhone or iPad app on the wifi network. Wet Sounds wrote a custom graphic interface for the app to be able to control each zone independently, all zones at once, beat to the music, flash and so on.
Check out the Wet Sounds Rat Rod Tige Z3 at the SEMA show in Las Vegas.