TAPS 3T
Just push 'GO' and TAPS 3T will deliver perfect swells and massive wakes.
Built on years of success, TAPS 3T was engineered with the most effective and forward thinking technology available. TAPS 3T and the natural performance of the Convex V Hull forms the longest, most perfect and powerful surf wave on either side of the boat.
The TAPS 3T exclusive plate designs utilize military grade actuators that withstand over 3 tons of pressure, giving you more reliability than any other surf system on the market. TAPS 3T was tested down to the millimeter so that it will deliver consistent waves, set after set.

Whether you're setting up for wakesurfing, wakeboarding, skiing, or just a cruise, the GO System makes dialing in performance literally effortless. Just push 'GO' and you're underway with your perfect wake. No setup or dialing in instructions necessary!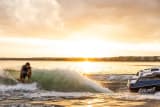 YOU SURF, WE ADAPT
TAPS 3T loads your wave with power and push, at the push of a button. It's always adjustable, always consistent, and always firing.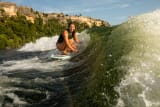 HIGH ON YOUR LIST
TAPS 3T conquers the demands of convenience and quality, all while intuitively connecting riders to their surf wave like never before. In tandem with the Convex V Hull, TAPS 3T's will result in the quickest, cleanest, most powerful transfer and a surf wave that's second to none.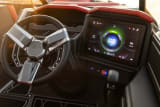 THE GO SYSTEM + TAPS 3T
Whether you're setting up for wakesurfing, wakeboarding, skiing, or heading home, the GO System powered by TAPS 3T makes dialing in your boat literally effortless. Just push 'GO' and your cruise control, ballast, and TAPS settings will automatically be set. No set up or dialing in instructions needed!
TAP INTO VERSATILITY
It all started back in 1995 with the development of the original TAPS (Tige Adjustable Performance System) technology and the Convex V Hull, making Tige the first inboard to give you full wake control and trim capability.
With over 75 years of combined experience in boat design and wake development, Charlie Pigeon, Blake Pigeon, Eddie Gugliemetti and more of TeamTige spent countless hours perfecting the TAPS 3 Surf System. Every component from the Convex V Hull and side surfaces, TAPS, swim platform, Surf + Wake XL Ballast, Raptor Series 6.2L engines, and propellers were evaluated, and then reevaluated. With integrated leading technology working together as one, the TAPS 3T Surf System makes Tige far and away the front-runner in versatility.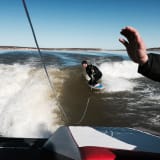 FROM OUR HANDS TO YOURS
The greatest progress made is by pushing the status quo, not by conforming to it. The TAPS 3T Surf System went through rigorous testing to provide you with the best possible experience.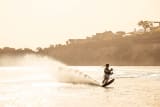 WELL-VERSED IN VERSATILITY
The center plate, the original TAPS system, gives you precise control over the running attitude, planing, and maneuverability, as well as wake shape control for wakeboarding and waterskiing.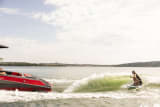 READY WHEN YOU ARE
When you're ready to wakesurf, the outer plates will engage to create the list, yaw, and draw that generates the most powerful surf wave you'll ever experience.
TAPS 3T SURF SYSTEM COMPONENTS
With the industry's leading technology working together as one, the GO System Powered by TAPS 3T now equips your endless wave with endless possibilities.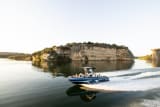 AUTO TAPS
As your onboard driving and riding assistant, Auto TAPS is preconfigured to predict driving conditions. Sit back and relax because TAPS already knows your next move.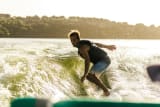 SURF + WAKE XL BALLAST
Your Tige has been highly calculated for turnkey performance. The Surf + Wake XL Ballast throws the right size wave or wake for every rider regardless of the number of passengers.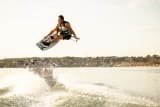 ZERO OFF® GPS SPEED CONTROL
GPS Speed Control that's easy to use for recreational drivers and precise with immediate response for world-class competitors.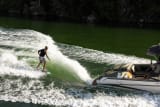 WE REMEMBER
Remember when you were surfing on the other side of the boat? We do. Your surf settings are stored into your CLEAR Horizon memory.