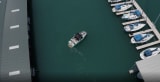 TIGE THRUSTER CONTROL PACKAGE
The all-new Tige thruster control package adds an extra layer of convenience for drivers of any skill level. Connected directly to your throttle, the Tige thruster allows you to quickly move the transom of your Tige to the left or right so that you can navigate docks, marinas, or the open water with more confidence.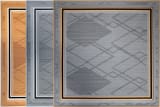 TRIPLE-LASER NON-SKID
Take customization up a notch with triple-laser non-skid decking in three options of colorways.
Left to right - Synteak, Graphite, and Mixed (Graphite and Synteak.)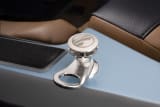 PHENDER PRO
The ultimate quick-release fender cleat, Phender Pro allows you to dock and undock with one simple click.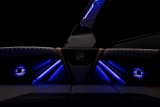 ENHANCED LED LIT PACKAGES
Glow with the flow with more RGB LED options, including the RGB grab handles, tower base, blades and speaker rings. Choose from an almost never-ending color wheel and set the lights to set a vibe.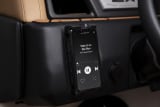 INCHARGE PHONE HOLDER
Stay in charge of the music and your day with the InCharge phone holder with wireless charging capability.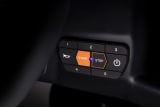 KEYLESS IGNITION
Starting your Tige is as easy as 1, 2, 3. Really, just set your passcode and your Tige will be ready to go when you are.
SWIM PLATFORM LADDER
Need an extra boost? The spring-loaded swim platform ladder will get you in the boat, and then retract back in place.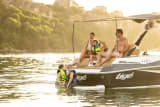 COVE COVER
Ready to throw some shade? The Cove Cover will attach to your E3 bimini and extend to the end of your transom. Keep the kids and family out of the sun, but still in the boat.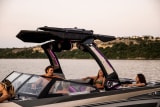 BLADE LIGHTING
Form meets function as you fully customize the Alpha E3+ to match your style with custom tower blades, tower speakers, and an endless array of RGB color options.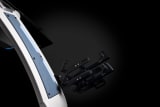 SKYLOCK BOARD RACKS
New to 2022, option up to the Skylock Board Racks. The adjustable arms allow your boards to stay safe and secure while you're on the go, no matter what size your board is. The Skylock Board Racks also feature vest holders, flag holders, and a Master Lock to secure your boards while you're away.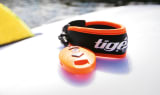 SURF LINK REMOTE
When you're ready to switch it up, your Tige is ready to perform. To transfer with the TAPS 3 Surf System, just press the center button and you're on the other side in no time.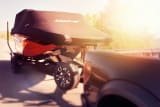 PROTECT-ALL BOAT COVER
Keep your Tige fully-covered and fully-protected with the all-new Outer Armour Protect-All Cover. Featuring the Vacu-Hold System and securing everything you love about your Tige, the Protect-All Cover will keep your boat in perfect condition and free from the elements whether towing or storing.