Alpha E3+ with SolidShade
SOLID + SHADE
The award-winning Alpha E3+ with SolidShade delivers the ultimate trifecta -- more storage, more convenience, and more shade. The always-deployed SolidShade introduces a new level of functionality that makes your idea of what a bimini is a thing of the past.
With a simple touch of a button, the power duo will raise and lower so that you're always ready to stow, tow, or go. This new feature features incredible features, including Plug and Play Board Bags, life jacket hangers, multiple tow points, and ingenious cargo solutions. Whatever you're ready to do, the Alpha E3 + with SolidShade is ready too.

DESIGNED TO DELIVER
There's innovation, and then there's the Alpha E3 + with SolidShade. Our discerning eye for detail and style means every last stitch, feature, and storage possibility is carefully engineered. Tige's commitment to out-of-the-box thinking is evident through the functionality of the Alpha E3+ with SolidShade.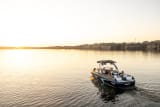 POWERFUL PRESENCE
The Alpha E3+ with SolidShade shapes the future of tower functionality while still radiating iconic Tige styling. Form meets function as you fully customize the Alpha E3+ to match your style with custom tower blades, tower speakers, and an endless array of RGB color options.
MORE SHADE. MORE FUN.
The always-deployed SolidShade has you covered (literally) with up to 62 square feet of sun and rain protection — the most coverage in the industry. SolidShade is the perfect combination between convenience and function.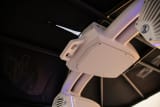 TOW POINTS FOR EVERY STYLE RIDER
Two tow points are centrally located within the E3+ tower. Advanced level wakeboarders aiming to get the biggest air can opt for the higher tow point located just above the SolidShade. The lower tow point, found underneath, is most convenient for surfers and amateur-level riders.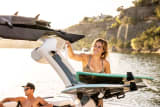 SIDE TOW POINT
Side tow points come standard with the Alpha E3+. Located on both sides of the tower, side tow points are designed with new riders in mind for easy learning and transitioning. Keep both regular and goofy footed riders in an ideal position as they are finding the pocket for the perfect ride.
PROTECT-ALL BOAT COVER
Keep the SolidShade fully-covered with the Protect-All Boat Cover for the ultimate towing and storage solution. When we say Protect-All, we mean it protects it all — your boat, your speakers, your interior, your SolidShade. Your Tige will be kept in perfect condition and free from the elements.
LEVEL UP
Take the Alpha E3+ with SolidShade to the next level with an array of customizable options.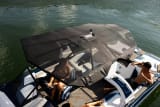 SHEERSHADE
Once again, Tigé leads the way in innovation with the first-of-its-kind Sheer Shade Tower Cover. Crafted with precision, the all-new Sheer Shade Cover allows a soft flow of sunlight to filter through while simultaneously providing an impressive 85% shade. It ensures a cool and comfortable environment on deck during the sunniest days and welcomes a warm light in on cooler days. As always – Tige has you covered.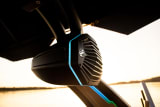 SOUNDS UP. SURFS UP.
Audison speakers work in harmony with the Alpha E3+ Tower. The entire audio system has been engineered and ergonomically placed throughout each Tige to produce extraordinary sound for an extraordinary boat.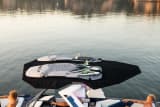 PLUG-AND-PLAY BOARD BAGS
More storage. More fun. You can safely transfer your boards to and from your boat with the Plug and Play Board Bags. Each bag simply attaches to SolidShade, keeping your boards protected and your cockpit clutter-free.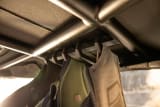 LIFE JACKET HANGERS
When we say SolidShade is full of smart storage, we really mean it. Give your belongings a breath of fresh air with the all-new life jacket hangers. Whether you're cruising, surfing or your boat is in storage; the five-hook accessory keeps your goods secure, safe, and smelling fresh.
LIGHT IT UP
Tige does RGBs better than any other boat on the water. Glow with the flow with the enhanced RGB lighting. Choosing from an almost never-ending wheel of colors, you can match your tower base, blades, and speaker LED lights.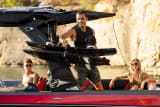 OPTIONAL BOARD RACKS
Tige offers more board storage than any other boat on the water. If SolidShade, Plug and Play Board Bags, and surf lockers are still not enough storage for you, you can opt for our board racks. Now truly an option, store your gear in the SkyLock Board Racks, the billet SwivelShock Racks, or the Clamp 4rce Racks.
*Skylock Board Racks Pictured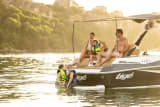 COVE COVER
Extend the day and your shade with the Cove Cover. The Cove Cover attaches to your Alpha E3+ with SolidShade and extends to the end of your transom. Keep the kids and family out of the sun but still in the boat.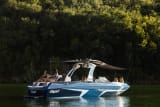 COVE COVER ELITE
New for 2024 is the Cove Cover Elite. The Cove Cover Elite likes to throw shade – in a good way. It attaches to your Alpha E3+ with SolidShade and stretches from the bow to the transom's end. Enjoy the shade and make every moment on the water truly cool and comfortable.

BACKED BY THE TIGE 5
Don't let worry tower over your head, because we've got you covered from bow to stern. The Tige 5 Warranty is the most transparent, comprehensive warranty in the inboard segment that provides owners with maximum coverage and minimal limitations.