Surf + Wake XL Ballast
Our Surf + Wake XL ballast system is designed to throw the right size wake for every rider, regardless of the number of passengers.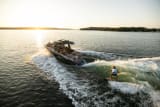 WORTH THE WEIGHT
The Surf + Wake XL Ballast has been calculated, configured, and tested for optimum performance and versatility.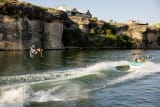 PATENTED PERFORMANCE.
Because every Tige model is built on the Convex V Hull, you get the biggest wakes imaginable with greater fuel efficiency and less drag than with any other inboard.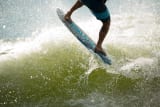 YOU RIDE, WE ADAPT
It's not just the size of the wake that matters. With TAPS technology, anyone can achieve outrageous levels of wake-shaping and go from a wakeboard to wakesurfing in just five seconds.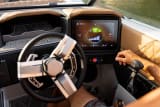 THE POWER OF TOUCH
On your touch screen, you can fill or empty ballast tanks, check ballast levels, or use the Inclinometer to dial in your perfect wave.