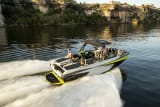 Lake House Marine Joins Tige Boats Worldwide Family of Dealers
Abilene, TX -- Tige Boats, Inc. is pleased to announce Lake House Marine has joined their worldwide family of dealers. As a dealership specializing in premium products and an excellent customer experience, adding the Tige and ATX brands to the Lake House Marine family was a natural fit.
Lake House Marine proudly operates across two provinces in Western Canada, Alberta, and BC. The Alberta store sits on the west end of the city of Edmonton in the heart of one of the various automotive districts. About 35 minutes from any nearby lakes, LHM AB utilizes Jackfish and Wabuman lakes in western Alberta. The BC store sits in the heart of the Kelowna motorsports district in McCurdy Place. This location serves lakes such as Kalamalka, the Okanagan, and even the ever-beautiful Shuswap. Being in an area known as "Lake Country" makes operating in the Kelowna area a no-brainer for anyone in the marine industry in western Canada.
Lake House Marine came to be after the Yachimec Automotive Group branched out into the marine industry in the late 2010s. The Yachimec family has always had a strong passion for everything watersports, growing up on BC lakes with plenty of surfing and fun to be had on the water. Taking 30 years of experience in the automotive industry and applying it to the Marine industry has made the transition easy for the group. Lake House Marine is proud to be your Tige and ATX dealers for Western Canada.
Tige Boats Inc. is represented by a worldwide dealer network. Dealership opportunities continue to be available both in the U.S. and internationally to those dedicated to carrying on the Tige legacy and commitment to customer service to Tige customers. Stop by Lake House Marine to explore the lineup of Tige and ATX boats, from the Tige 25ZX through the ATX 20 Type-S.
Lake House Marine
17920 100 Ave NW
Edmonton, AB T5S 2T6, Canada
+1 587-760-1770
https://lakehousemarine.com/