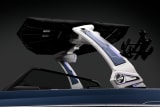 TIGE BOATS, INC. LAUNCHES INNOVATIVE FEATURES FOR 2023
Abilene, TX -- Tige Boats, Inc. is launching into a new era of innovation, luxury, functionality, and convenience for the 2023 model year. Tige Boats thought of everything, and no detail was left untouched moving into 2023. For 2023 consumers can expect the next-level of Alpha E3 tower performance, a luxurious new audio system, enhanced interior designs, a new wheel design with Smart2 technology, an updated reversible seat with table option, additional gel coat, and vinyl color options, and a fresh look for Indmar Engines.
"The 2023 Tige Line set new standards on what we are striving for, and it defines our goals for consistently pushing forward," stated Charlie Pigeon, Owner, and CEO of Tige Boats. "We're ecstatic to introduce several industry firsts, including Audison's Pro-Audio System to the marine industry; it produces extraordinary sound, and we can't wait for everyone to experience what our team has been working so hard on."
All-New Tower: Alpha E3+ with SolidShade
The all-new Alpha E3+ with SolidShade delivers the ultimate trifecta -- more storage, more convenience, and more shade. The always-deployed SolidShade introduces a new level of functionality that makes your idea of what a bimini is a thing of the past. With a simple touch of a button, the Alpha E3+ Powered Tower and SolidShade simultaneously raise and lower so that you're always ready to stow, tow, or go. The all-new tower boasts more incredible features, including plug-and-play board bags, life jacket hangers, multiple tow points, and ingenious cargo solutions. The SolidShade truly lives up to its name of being solid -- with up to 62 sq. ft. of sun and rain protection, you can guarantee your day on the water will stay cool and epic. Form meets function as you fully customize the Alpha E3+ to match your style with custom tower blades, tower speakers, and an endless array of RGB color options. The Alpha E3+ with SolidShade is always ready to perform for every situation or scenario you can imagine. Explore everything the all-inclusive new tower has to offer here.
Audison Pro-Audio System
A Pro-Audio experience you won't find anywhere else. That's why Tige Boats is proud to be the only towboat brand to exclusively feature Audison, an award-winning pro-audio system. Years in the making, this high-definition system was designed to bring you an unforgettable audio experience that is nothing short of luxurious. Two powerhouses came together to create a signature sound for the first time in the marine industry. Together, Tige and Audison are bringing the next chapter of marine audio.
Experience sound that awakens the senses with Audison's professionally tuned Venezia Amps. Keep the good times rolling thanks to the Venezia Amps, which offer 30% more output while using less current draw on your battery than other marine audio systems. Its compact design is ready to face the open water environment, providing tons of clean power. Powering up to 4400 Watts, the Venezia amps are born to enhance the outstanding performance of the Audison Marine speakers. With a wider-off axis and full range sound quality at 100 feet and beyond, Audison provides consistently clear playback, even at a distance.
About Audison
Crafted in Italy, Audison has engineered the most refined audio solutions over the last 40 years. Audison's unwavering dedication to research led them to perfect the surround sound experience, providing a rich, captivating sound found in exotic cars and concert venues worldwide.
Enhanced Interior Design & Color Options
Smart2 Wheel
Convenience is key when you're sitting in the captain's chair. The sleek new Tige Alumina Wheel with Smart2 technology seamlessly connects to the Tige CLEAR touch screen for full functionality, meaning everything you need is within one touch, without your hands ever having to leave the wheel. Tige's ergonomically designed helm and intelligent controls make your day on the water more efficient and more fun.
Reversible Bench & Table
With the new and improved reversible seat, you now have the option to sit back, relax, and enjoy the ride or fold it down and enjoy a snack at the table with your crew. Available on ZX and RZX models.
New Gel Coat & Vinyl Colors
For 2023, your desire can meet design with three new color options -- Stealth Green, Sonic Blue, and Desert Tan. With new matching vinyl options, you can now complement our already-popular exterior colors, Sky Blue and Turquoise.
Enhanced ZX Class Interiors
Tige has always been at the forefront of exquisitely designed interiors. For 2023, Tige's ZX Class stepped into a new evolution of luxury with enhanced styling. With Tige's renowned diamond-stitched interior, premium touches, and a slew of standard features, you'll find yourself at the corner of comfort and luxury.
Fresh Look for Indmar Engines
Same proven performance you love, with an all-new look. Thanks to the Raptor Series' unmatched torque, you can maximize the amount of push in your wave and pop off your wake without worrying about extra power for the load.
2023 Tige Boats are landing in dealerships worldwide, making waves with their powerful performance, and demanding new looks. Explore 2023 Tige Boats online now, then experience one for yourself at your local dealership.