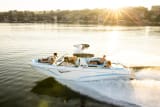 Tige Boats Makes a Big Statement with the All-New Z5
Abilene, TX -- Tige Boats, Inc. is proud to unveil the all-new Z5, the largest model in the Z Class. Coming in at twenty-five feet and 5 inches, the brand new Z5 was created to serve up countless memories and long days on the water with friends and family. The Z5 was built on legendary lineage following the Z3 and Z1, and it is sure to create a legacy of its own.

Built to impress at every level, the all-new Z5 is larger than life. From its modern flare and luxurious interior to its incredible performance and capabilities, the Z5 is premium by nature and versatile by design. With spacious seating for up to 18 people, plus massive amounts of storage, you don't have to leave anyone or any gear behind. Boasting a deep keel and large size, the Z5 will cut through any rough water in front of it -- all you have to do is set your cruise control and enjoy the ride.

"With the addition of the Z5, Tige's Z Class is a total package that is going to storm the wake segment with boats that offer ultimate reliability, versatility, and style," stated Charlie Pigeon, Tige Boats Owner and CEO. "The Z5 can truly do it all -- our team didn't sacrifice anything or leave any detail untouched when designing this boat. The performance, handling, and stunning design set elite standards we can't wait to show off."

The surf performance of the Z5 is in line with what you expect from a Tige -- it's long and powerful, and riders can dial it in even further using the GO System. Whether you're a pro or novice, wakeboarder's on the Z5 can expect clean wakes that the Convex V Hull is notorious for. Other notable features of the Z5 include Audison Pro Audio, Indmar Raptor engine, Alpha E3 Tower, CLEAR XL touch screen, TAPS 3T powered by the GO System, transform seating, and transom lounge seating.

Explore the all-new Z5 online, then experience it for yourself by contacting your local Tige Boats Dealership.
Z5 Specs:
Length: 25'5" (7.62 m)
Beam: 102" (259 cm)
Weight: 6,100 lbs (2,767 kg)
Ballast: 4,400 lbs (1,995 kg)
Fuel: 79 gal (299 l)
Seating: 18 persons
Storage: 137.5 ft^3