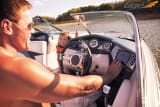 10 Things to Check During A Test Drive
The best way to test the substance of any product is to use it. That's why the perfect test for Tige and all other inboards is on the water, and that means more than just a quick spin on a glassy lake. A good test drive should be fun, entertaining, and give you a true sense of how the boat feels and functions in all water conditions and watersport configurations. Bring the entire family along with boards and skis. Spend some time experiencing the real-world function of those stylish interiors, storage, and other features. Insist on driving theirs... And ours.
- Check useful storage for boards, skis, coolers, and other gear. Note accessibility and convenience.
- Evaluate entry into boat from dock. Note positioning of steps and walkovers.
-Observe space and seating arrangement in both cockpit and bow areas. Evaluate bow comfort, accessibility, and roominess. Sit in various seat locations and note seat contouring, overall support and comfort. Note traffic flow and leg room with all passengers seated.
-Sit in the driver's seat and scan the dash for instrument placement, visibility and ease of use. Check forward visibility over the dashboard. Note comfort and convenience of driver's seat.
-Observe freeboard, depth of seating and dryness of ride in all conditions. Evaluate safety for children.
-Accelerate (set TAPS2 at the slalom setting for Tige models). Note how quick the boat comes to plane. Make several wake crossings and note ride comfort.There should be little or no flexing in the windshield walkthrough, dash area, or seat bases.
-In quiet water, set TAPS2 at the wakeboarding setting (8) and accelerate to 20 MPH. Observe wake size and shape without ballast. Fill ballast and observe wake size and shape again. Maneuver to check handling. For other inboards and stern drives, accelerate to 20 MPH. Observe wake size and shape without ballast. STOP. Fill ballast tanks or position drag hardware. Accelerate to 20 MPH. Observe wake size and shape and maneuver boat to check handling.
-While cruising in rough water, adjust TAPS2 or trim stern-drive to optimize ride comfort. Evaluate ride. For other inboards, evaluate ride in rough water.
-Allow all legal drivers in the family to drive in slalom, wakeboarding, wakesurfing, and cruising configuration. Evaluate handling and user-friendliness.
-Discuss with dealer whether or not the boat delivers on everyone's expectations.