Jake Pelot
PRO WAKEBOARD
Jake grew up in Orlando, FL, and started wakeboarding when he was ten years old after his family purchased a home on a lake. He first learned to ride behind a jet ski and immediately fell in love with the sport. From that point on, Jake spent nearly every day after school on the lake or at the cable park. Jake's passion and love for boating and his impressive wakeboarding skills will bring a wide array of talent and prove extremely valuable for Tige and ATX brands. Jake has experienced incredible opportunities traveling worldwide for wakeboarding competitions, miscellaneous events, and getting to work with many other highly talented individuals.
Voted Rookie of the Year in 2017
Top 10 in the 2020 WWA World Rankings
Top 10 in the 2020 Pro Wakeboard Tour
"I'm really excited to be joining the Tige team and to be on board with a company whose roots and passion run so deep in watersports! Tige's quality and performance is insane, and it's going to make all the time I spend on the water that much more enjoyable, whether I am out training for events or just enjoying a Saturday on the lake!"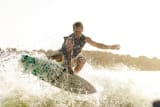 Josh Kerr
Kerr is renowned as one of the most dynamic ocean surfers in world and is always amongst the top of the WSL Men's World Rankings. Josh Kerr has found fun and progression by wakesurfing behind Tige boats, and is known for bringing his aggressive ocean style to the endless wave.
"I'm so stoked to be joining the Tige family. Being on a boat is one of my favorite pastimes. With wakesurfing, I can do what I love to do in the ocean and share it with the whole family," stated Kerr. "The Tige wakesurf wave is insane…it's literally a never-ending wave!"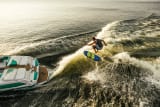 Dominic Lagace
Dominic Lagace lives the dream of most wakesurfers: chasing summer year-round. Doum's riding style matches his easy-going personality. With this attitude and the ability to befriend everyone he meets, it's no wonder his surf school is booked out months in advance. Doum proudly lives out the Tige dream and spreads the lifestyle everywhere he goes and to everyone he meets.
Hometown? Trois-rivieres, Quebec, Canada
How long have you been wakesurfing? About 20 years.
What would a "perfect day" be to you? Being happy and riding all day.
What is something no one would ever guess about you? When I was 23 years old, I was a full time teacher in sheet metal (or, how to build an airplane). I quit everything to ride and enjoy my life.
What are 5 things you can't live without? Wave, board, sun, happiness and love.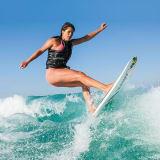 Emily Agate
While Emily has made a number of big career moves, she says that becoming a TeamTige rider is her biggest accomplishment yet. "It was something I dreamed of last season, and I worked really hard to make it come true," said Emily. "It was a goal that was somewhat out of my control. I can train, I can surf, and I can perform at a competition and podium. However, signing with Tige was something that I had to be offered. I am so excited to be a part of the team, and I cannot wait to see what the year brings."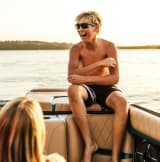 Perry Morrison
Perry Morrison might be the youngest rider on TeamTige, but his talent is sure to carry him to the top. Perry fell in love with wakesurfing, Tige Boats, and the lifestyle that goes with it all through the Tige Endless Wave Tour. With raw talent and whole-hearted passion, you can expect to hear Perry's name as one of the fastest progressing riders on the wakesurf scene in the coming years.
What was the deciding factor for you to pursue the direction of a pro career? I love surfing and after my first private lesson with Dominic Lagace at Lake Lewisville, TX in 2013, I got excited about competing at the Endless Wave Tour Stop in Fort Worth, TX. At the Tournament, we met a lot of people that wanted to make sure I had fun.
Where do you usually ride? I usually ride at Lake Grapevine, Grapevine, TX.
If you weren't wake surfing, what would you be doing? I would be scuba diving, flying airplanes, sailing, or TaeKwonDo which are my other hobbies.
How stoked are you to be so young and already have a boat sponsor? It's an amazing and special feeling to have a boat sponsor and partner with me on my journey. I am really excited that Eagle Marine and Tige have offered me the opportunity to be a part of their team and family.

What's your biggest goal as a wake surfer? To be the best I can be and someday win first place in the World Wake Surfing Championship.