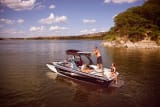 10 Ways to Boat on a Budget
If you're creative, you can come up with a bunch of ways to save money and continue to enjoy boating with your family. Lucky for you, we did the research. Read on to discover ways to save some cash while you continue to enjoy family time on your boat.
1) The proper prop: First, make sure you have the right propeller.
2) Get a tune-up: A qualified mechanic should service your boat's engine at least once a year.
3) Keep your bottom clean: A dirty hull causes drag, which hampers fuel efficiency.
4) Level load: Make sure you position weight throughout the boat to keep it properly trimmed while you're running.
5) Smart speed: If you have a heavy throttle hand, figure out your best range.
6) Eliminate excess: Cut down on all the gear you carry on board.
7) Fuel as needed: There's no need to keep extra gas in the tank, especially when you're not boating every weekend.
8) Go topless: If you boat has a Bimini top, close it when you don't need it for shade.
9) Take turns: If you meet another family in their boat and raft up in a cove for the day, take turns hosting on a single boat.
10) Store your boat close to the lake: If you live far from where you boat, consider keeping your boat at a storage facility near that body of water.