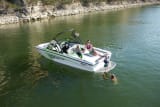 2014 Custom R20 for Auction
Tige Boats is once again generously donating a brand new 2014 Tige R20 to West Texas Rehabilitation Center, a nationally respected non-profit physical rehabilitation center located in Abilene, Texas. West Texas Rehabilitation Center uses the money from the auction to provide quality care for patients with disabilities regardless of their financial circumstance. The auction will close at midnight on January 18, 2014. Place your bids here. You could be the owner of a brand-new, custom built 2014 Tige for your lake trips just in time for summer!
Tige's mission has always been to open up the world of water sports to as many people as possible. The R20 that is up for auction will come equipped with everything you need to fulfill that dream. The R20 will provide you with remarkable performance coupled with Tige's legendary craftsmanship and quality. Whether you're driving, riding, wakeboarding, surfing or just enjoying the view, the R20 is designed to deliver the exact on-the-water experience you want.
The R20 available on the West Texas Rehabilitation Center auction is brand new 2014 model, 20-foot inboard watersports boat. Standard features include a PCM 5.0L ProSport 303 hp engine, your choice of deck accent and main panel accent color, your choice of graphics, Tige's patented Convex V hull and TAPS2, Tige cruise control, helm seat with flip up bolster, 900lbs ballast system, black powder-coated Tige Vector Tower with fixed board racks, and a premium sound system with four speakers. The R20 will also come with a single axle, black Boatmate trailer. As a bonus you will also receive daily updates of your new Tige being built.
MSRP for the standard R20 and trailer is $57,900. Your bid may also be used towards the purchase of a different 2014 Tige model we offer. The auction will be facilitated at rehabauction.org.