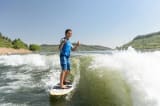 7 Questions with EWT Wakesurfer Ben 'Lil Squid' Kendall
Ben Kendall will be returning for his 2nd year to the Endless Wave Tour where he will be competing at all 5 EWT stops this summer. Ben picked up the nickname 'Lil Squid' from his dad who runs 'Squids Wake'. While Ben enjoys and is recognized for his surfing skills, he is also recognized as a national ranked wrestler. Ben looks forward to this summer competing at the Endless Wave Tour stops.
Tige Boats: When did you learn to surf?
Ben Kendall: I really love Wakesurfing. I like the competitions as much as I like having fun with friends. I first started wakeboarding behind our old boat. Soon I transitioned into wakesurfing after we got our first Tige.
TB: What is your favorite EWT stop?
BK: My favorite stop is the West Cost Open. It was my first event competing and I made life long friends.
TB: What do you fill your time with when you aren't surfing?
BK: I am a national ranked wrestler. The sport keeps me in shape and teamed me discipline and confidence in myself. I also like going to school to grow my brain (that's what my dad calls it).
TB:These riders inspire me….Who is your favorite rider?
BK: Chase Hazen. I have spent enough time with Chase doing clinics to see that he's respectful to everyone and likes to teach new people.
TB: Any new tricks you're working on?
BK: Yeah a 360 and some air grabs. its fun pushing myself and I'm hopeful i'll get lot's of points in contests.
TB: What lake is your home lake?
BK: Our home lake is Cherry Creek. that's were we spend time mostly surfing in the early morning as people are at work. My dad love the lake because no one is there and we can enjoy the flat water...
TB: Where's your favorite place you've ever ridden?
BK: Simple, behind our Tige Boat of course.