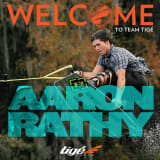 Aaron Rathy Signs With Tige Boats
After an intense tour of Tige Boats and testing future products with the Tige R&D Department, Aaron Rathy has jumped to TeamTige's Global Wakeboarding Team.
"I'm stoked to be joining TeamTige. It feels amazing to ride for a boat company that shares the same passion for wakeboarding," stated Rathy. "Testing new products with Tige was so sick! Massive changes are coming to the industry and I couldn't be more excited to be a part the team."
"Inviting some of the top riders from around the world to test future products was crucial to solidifying the strongest lineup in the industry," said Daniel Gutierrez, Director of Product Design and Marketing for Tige Boats. "Rathy giving his full approval of our direction is huge! He is an incredible wakeboarder and his goals align perfectly with ours."
Rathy is recognized as one of the most driven and well-rounded wakeboarders in the world. Wrapping up a huge year in 2013, Rathy took the top of the podium at the Red Bull Wake Open winning Overall and was voted 4th in the TransWorld Wake Readers Poll. Rathy is also sponsored by Rockstar, Oakley, JetPilot, Byerly Boards and Performance Ski & Surf of Orlando.