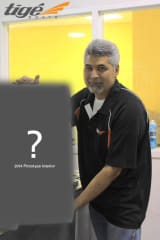 Albert Valerio Celebrates 18 Years With Tige
Our longest standing employee here at Tige Boats is celebrating 18 years of service today!
Albert Valerio started with Tige in 1995 as a "temporary job" in the upholstery department as a sewer.
"I needed some temporary work for 2-3 months. The people at Tige have treated me so good that I am still here 18 years later," said Albert. "I can truthfully say that I love my job!"
Today Albert is still a full-time sewer for Tige and works with Customer Service and Warranty. He is also the first to sew all of the new upholstery designs... You could say, he brings the designers sketches to life.
"Having top-notch employees is the key to our success. Employees, such as Albert, that are passionate about their work is really what makes our company so special," stated Tige President, Rick Correll. "Albert, it has been a pleasure having you work with us for the past 18 years and I look forward to all of the good times still lying ahead. Congratulations and thank you for your dedication!"
Albert's sister, Meddy, and brother, Hector, are also long standing employees at Tige.
Here's to another 18 years!