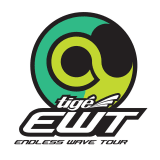 Announcing the Endless Wave Tour
It is a priority of ours to fuel the wakesurf revolution. We are so excited to be bringing you the first ever Tige Endless Wave Tour. We have five stops planned with locations in NorCal, Colorado, West Texas, Idaho, and North Texas. Grab your family and take a trip across the country with us. Can't make the whole tour? Join us for just one stop!
The Endless Wave Tour will kick off on June 6-9 in Wheatland, California for the West Coast Open. We will have amateur and professional categories in surf, skim, and longboard. Series points will be calculated and we will crown the tour winners at the final tour stop in Dallas, Texas.
Chase Hazen, Ashley Kidd, Dominic Lagace, and Chris Kinsey are coming with us to bring you wakesurf clinics for all ages and skill levels, board demos, Tige test drives, and the opportunity to get behind the patented, surf wave enhancing Convex VX.
Tige Endless Wave Tour Dates
June 6-9: West Coast Open - Camp Far West Lake -- Wheatland, California
June 20-23: WWS Summer Shred Fest - Horsetooth Reservoir -- Fort Collins, Colorado
July 19-21: Wake The Desert – Lake Nasworthy -- San Angelo, Texas
August 1-4: Boise Surf Bash -- Lucky Peak Reservoir -- Boise, Idaho
September 12-15: Texas Surf Showdown – Marine Creek -- Dallas, Texas
Special thanks to our sponsors: Wake9.com, Squids Wake, California Marine Sports, Waterski Specialty, Family Powersports, Prestige Watersports, Eagle Marine and Ski Skeller Sports.
If you would like to be a sponsor for a local event, email Chris Kinsey at chris.kinsey@elitesolution.com.
For details on clinics, registration, contests, etc., check it out endlesswavetour.com or 'Like' the tour on Facebook!