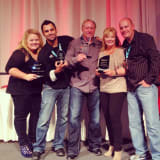 BILL BISTLINE OF WATERSKI SPECIALTY IS NAMED PRESIDENT OF COLORADO MARINE DEALERS ASSOCIATION
With 14 years of experience on the the Board of Director, Bill Bistline has been elected as the President of the Colorado Marine Dealers Association. Bistline is the owner of Wakeboard and Waterski Specialty, Tige's 2014 #1 Dealer located in Denver, Colorado.
The CMDA is a non-profit organization that has been actively coordinating the Denver Boat Show for the past 30 years. Waterski Specialty has been a standing member of the CMDA for 26 years.
As President of the CMDA, Bistline will serve as the key liaison between the Denver Boat Show Coordinators and Media companies to ensue an enjoyable experience for all show attendees. The Denver Boat Show attracts 30,000-35,000 local boaters.
Bistline previously served as Treasurer of the CMDA for the past 6 years.